[First published at https://www.nrlc.org/archive/news/2000/NRL04/steir.html.]
By Liz Townsend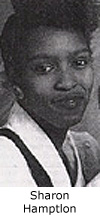 In a surprise move, California abortionist Bruce Steir pleaded guilty to involuntary manslaughter April 5 in the botched- abortion death of 27-year-old Sharon Hamptlon. Jury selection for Steir's second-degree murder trial was about to begin when the plea agreement was announced.
Steir, 69, will be sentenced on May 26, and would receive no more than a year in jail and five years' probation unless a presentencing probation report reveals "aggravating factors," according to the Los Angeles Times.
Sharon Hamptlon's mother expressed disappointment that Steir may be sentenced to such a short jail term. He should go to prison for a "long, long, long, long time," Doris Hamptlon told the Riverside Press-Enterprise. " My child is never coming back."
Sharon Hamptlon, the mother of a three-year-old boy, died on December 13, 1996, after Steir aborted her 20-week-old unborn baby at A Lady's Choice Women's Medical Center in Moreno Valley, California. Prosecutors claimed Steir perforated Hamptlon's uterus during the abortion and sent her home to bleed to death without getting her the emergency medical care she needed.
"Hopefully Bruce Steir will never again practice his brand of mayhem," said Jan Carroll, NRLC associate Western director.
The guilty plea came soon after Riverside County Superior Court Judge Vilia G. Sherman ruled in pretrial hearings that evidence about Steir's previous record of botched abortions could be offered at the trial, according to the Press- Enterprise.
In November 1995 (over one year before Hamptlon's death), prosecutors filed a formal complaint against Steir, accusing him of negligence in six abortions, the Press- Enterprise reported. In three of these cases, the women required hysterectomies.
A hearing on these cases was scheduled for April 1997. However, Steir surrendered his medical license in March 1997 in the wake of Hamptlon's death, and the hearing was canceled.
Judge Sherman also rejected defense claims that Steir was a "victim of selective prosecution" – – that state officials and the district attorney's office targeted him because of pressure from pro-lifers.
Prosecutors strongly denied these allegations. "Mr. Steir's record … of mispractice speaks for itself," Candis Cohen, spokes-woman for the Medical Board of California, told the Press-Enterprise.
The case against Steir centered on the testimony of Nancy Myles, who assisted Steir during Hamptlon's abortion. Myles told prosecutors that during the abortion Steir "gave her an unusual, almost indescribable look – – then said, 'I think I pulled bowel,'" meaning he had perforated Hamptlon's uterus and grabbed some of the bowel through the tear, according to the Times.
Steir contended that he knew he had made a mistake during the abortion but was not aware that the damage was life threatening, the Press-Enterprise reported.
After Steir completed the abortion, he sent Hamptlon to the recovery room without further treatment. Steir soon left the clinic to catch a plane back to his home in San Francisco. According to the Times, prosecutors contend Hamptlon "was unstable; unable to walk on her own; complaining of pain; pale, shaky and throwing up," but Steir did nothing more to help her.