Below is a press statement released on January 9, 2013, by Mark Crutcher of Life Dynamics, Inc., announcing the release of autopsy photos taken of a woman who died from a botched abortion. Given the rash of medical emergencies at abortion clinics that Operation Rescue and Abortion911.com have documented recently, it is important to see what fate these women face. Operation Rescue is partnering with Life Dynamics, Inc. and Priests for Life to promote this important project and get the truth into the hands of the public.
-Abortion911.com Staff
Click here to view the brochure!
Women killed in legal abortions to no longer be swept under the rug
Life Dynamics Publishes Graphic Autopsy Photos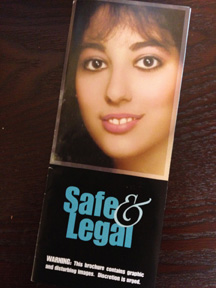 Denton, TX — Among national pro-life organizations, Life Dynamics has a reputation for pushing the envelope and their latest campaign is about to do it again. According to Life Dynamics President, Mark Crutcher, "The pro-life movement has never had images to illustrate the unimaginable brutality and ugliness of women being killed in America's "Safe and Legal" abortion clinics. But those days are over. We are going to show America what it looks like when women climb onto a table in one of these places and end up on an autopsy table a few hours later."
Today, Life Dynamics is releasing a new brochure revealing what happened to Marla and her unborn son, including ghastly photos from Marla's autopsy. Life Dynamics is also creating a new website on this issue called: SafeandLegal.com. This website will also feature the same graphic images contained in the brochure.
Please watch this emotional interview with Marla's mom and Mark Crutcher of Life Dynamics, Inc. describing the legal abortion death of her daughter Marla. This Jan 2013 edition of Life Talk introduces our latest project Safe and Legal. Today, Life Dynamics is releasing a new brochure revealing what happened to Marla and her unborn son, including ghastly photos from Marla's autopsy. The website with more details will be live soon at www.safeandlegal.com. http://youtu.be/mvBslbFpzJA
Mark Crutcher explains this project here https://www.prolifeamerica.com