Rutland blames Operation Rescue/local activists for his troubles while failing to take responsibility for his own negligence
By Cheryl Sullenger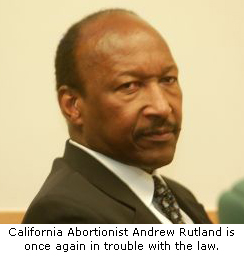 San Diego, CA (July 30, 2010) – The Medical Board of California amended a complaint on Wednesday against troubled abortionist Andrew Rutland to include the charge of homicide in the death of Ying Chen. The action came after the Los Angeles County Coroner's Office reclassified Chen's death as a homicide in June.
A revocation hearing before the Medical Board is scheduled for February, 2011.
Rutland had committed a second trimester abortion on Ying Chen at a dirty, unlicensed acupuncture clinic in San Gabriel, California, during which he administered an overdose of lidocaine. He failed to recognize the symptoms of the overdose and the patient went into cardiac arrest. He and his staff were untrained and unequipped to handle the medical emergency. After a "significant delay" in contacting 911, the woman was transported to a local hospital where she died six days later. Chen's death was originally classified as accidental.
Rutland has a long history of Board discipline and other problems. His medical license was revoked in 2003 for severing a baby's spinal column during a forceps delivery, then lying to the parents by telling them that their baby suffered a stroke. The baby later died. His license was reinstated in 2007 and Rutland was placed on 5 years probation with the restriction that he operate only under the supervision of another physician.
Last October, Operation Rescue reported that Rutland was violating his probation by engaging in the solo practice of medicine at an abortion clinic in Chula Vista. We asked our supporters to contact the California Medical Board and demand that his medical license be revoked.
On November 3, 2009, an Inspector from the California Medical Board attempted to inspect Rutland's stock of drugs and his records at his Chula Vista clinic, but was refused access by Rutland's staff.
In January, the Medical Board asked for an emergency suspension of Rutland's license until the Board could work through the lengthy process to finalize revocation. During that hearing, a judge blocked Rutland from doing abortions, but allowed him to continue office consultations.
Operation Rescue learned in February that Rutland was continuing to administer the abortion pill and contacted the Board with the evidence. Judge James Ahler later amended his order to allow Rutland to continue to the chemical abortions, as long as he did not engage in surgical abortions.
In response the reclassification of Chen's death as a homicide, Rutland sent an angry letter to a list of elected officials and others, including Oprah Winfrey, demanding an investigation into "clandestine collaborations of national antiabortion group organizations and local antiabortion activists with the Medical Board of California." Rutland singles out Operation Rescue and complains that we used "clandestine political collaborations" to force several abortionists out of business. He opines that everyone from the Medical Examiner, to the hospital, to the police officer who investigated Chen's death were all involved in some plot against him.
"Rutland has proven himself to be a dishonest man who presents an ongoing danger to the public. It was his own negligence and attitude that he is above the law that has landed him in repeated trouble with the Medical Board," said Operation Rescue President Troy Newman.
"Rutland complains that his problems are somehow the result of an anti-abortion plot. He is upset that authorities would hold him accountable to the law, but what he really wants is to be treated as if no laws apply to him. People are dying due to his shoddy work and Operation Rescue is proud of any small part we may have played in bringing him to justice."
Read Amended Complaint
Read Rutland's Letter (courtesy of CaliforniaWatch.org)
For more information about Ying Chin's death, please visit OperationRescue.org.