Chivon Williams
By Cheryl Sullenger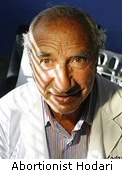 Lansing, MI (Sept. 24, 2014) — If you've never heard of Michigan abortionist Alberto Hodari, count yourself fortunate. If you have, then what happened recently at the Michigan Board of Medicine should come as a welcome relief.
For those who may not be familiar, Hodari once ran a chain of as many as six abortion mills in Michigan and is among the worst of abortionists, and that's saying a lot.
Four women are known to have died at Hodari-run abortion facilities, which can aptly be characterized as "mills." Tamiia Russell, 15, died less than 24 hours after a late-term abortion at Hodari's Lathrup Village facility in 2004. In 2007, a 17-year old Hodari patient died from abortion complications. Chivon Williams died less than six hours after having been released from one of Hodari's abortion mills following a suction abortion.
Despite the growing number of women dying at Hodari mills, in 2009, he was fined a mere $10,000 for his part in the death of Regina Johnson in 2003.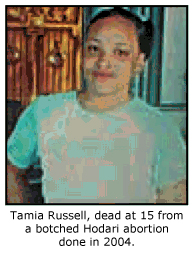 Amidst mounting professional and personal troubles, Hodari sold his abortion facilities and allowed his license to expire in January, 2013, but he apparently soon changed his mind about retirement.
In July, 2013, Hodari reapplied for licensure in the State of Michigan, answering "Yes" on his application form to questions concerning previous disciplinary action and the number of lawsuits he settled for $200,000 or more during any 5-year period.
Board requests for clarification were met with "evasive" answers, according to documents recently provided to Operation Rescue by long-time pro-life activist Lynn Mills.
Instead of full and honest disclosure, Hodari's attorney simply submitted case captions for his last five settlements without any details as to what the cases were about or why they warranted the substantial monetary pay-outs.
Records show, in fact, that Hodari has been sued over 50 times, the results of which have been sealed in many cases. No one really knows how many women have been butchered or otherwise maimed by this man.
The good news is that earlier this year, the Michigan Board of Medicine wisely denied Hodari's application for relicensure citing a lack of "good moral character" and noting that licensees in Michigan must display a propensity to serve the public "in a fair, honest and open manner."
While the lack of "good moral character" could apply to every abortionist, those words are the very antithesis of an apt description of Hodari, given the documented abuses in his background.
Originally from Argentina, Hodari made headlines when Citizens for a Pro-life Society discovered the remains of aborted babies along with patient medical records illegally dumped outside some of his six abortion mills.
He added to his notoriety when he told a group of students from Wayne State University that abortionists have a "license to lie" and that he does not wash his hands between patients to prevent his skin from chaffing. He also told reporters that even though he was well aware that induction abortions were dangerous, he still used the late-term abortion procedure without regard to the welfare of his patients.
In February, 2009, Hodari was sentenced to six months probation for illegally dumping of abortion records.
Hodari also had a documented pattern of forcing abortions on unwilling women. Jennifer McCoy told Operation Rescue that when she was only 16, Hodari tricked her into an unwanted abortion under the pretense of performing a routine obstetrical examination, then returned her to the man who had been sexually abusing her.
In 2009, Caitlin Bruce filed suit against Hodari for forcing an abortion on her after she had withdrawn her consent. In court records, Bruce alleged that she was held down on the abortion table by an assistant who covered her mouth with his hand to muffle her screams as Hodari forced the abortion on her. Hodari settled that suit for an undisclosed amount.
Time fails to relate further details of his atrocious acts that have left a grisly trail of broken women and dead corpses.
"We are relieved and thankful that Hodari can no longer practice medicine or inflict his particular brand of quackery on anyone else," said Operation Rescue President Troy Newman, whose office filed numerous complaints against Hodari over the years. "Unfortunately, there are other abortionists out there right now who are cut from the same corrupt cloth as Hodari. They are killing women and babies and victimizing their patients in unimaginable ways — and far too many are getting away with it. We know who some of them are, but others perpetrate their abuses in secret for now. We consider it our mission to find these people, document their crimes, report them and demand enforcement. It may take some time, but just like Hodari, their sins will find them out – and when they do, we will be there to catch and expose them, and bring them to justice."
Read Hodari's license denial document.
To learn more about William's death visit OperationRescue.org.