By Cheryl Sullenger
Alamonte Springs, FL — An ambulance rushed a woman to the hospital after she suffered a "possibly dangerous hemorrhage" after a botched IUD insertion at the All Women's Health Center, an abortion clinic in Altamonte Springs, Florida.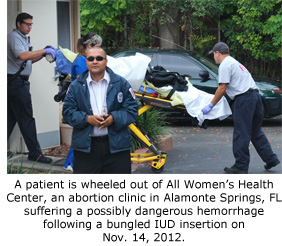 Sidewalk counselors on site took photos and video of the incident where the woman was wheeled from the clinic completely covered in a white sheet.
Operation Rescue recently obtained the 911 recording and Computer Aided Dispatch Transcript that confirmed the nature of the woman's injuries and produced a video that includes the emergency call recording.
Michele Herzog of Pro-Life Action Ministries, who witnessed the incident, told Operation Rescue that the clinic's security guard told her that the injured woman was "an employee that was pregnant and she started bleeding." That story was completely refuted by the 911 communications that stated specifically that the woman was a patient who was not pregnant and hemorrhaged during an attempt to insert an IUD.
An IUD, (Intrauterine Device), is a method of birth control that consists of a t-shaped object that is inserted into the uterus that prevents implantation of a growing human blastocyst, or baby at the earliest stage of development. IUDs are considered to cause very early abortions and are not a true contraceptive, because it causes the death of a growing human being. True contraceptives prevent the egg from being fertilized.
"In order to cause the heavy bleeding, it is likely that the IUD perforated the uterus. This is a very dangerous complication that would likely require emergency surgery to correct, according to our research," said Troy Newman, president of Operation Rescue and Pro-Life Nation.
"This incident just further illustrates the dangers that lurk at our nation's abortion clinics. There is no such thing as a 'safe' abortion clinic. In our years of experience, we have never found one that follows the law."