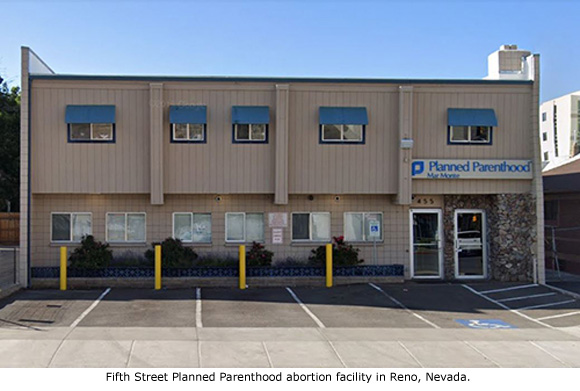 By Cheryl Sullenger
Reno, NV – For the second time in less than two months, the Fifth Street Planned Parenthood in Reno, Nevada, contacted 911 requesting an ambulance for a Priority 1 emergency.
This was unusual since the Fifth Street Planned Parenthood facility dispenses abortion pills but does not conduct surgical abortions.  This means it is likely that both emergencies were related to women returning to Planned Parenthood due to complications from the abortion drugs.
According to 911 CAD printouts, the most recent emergency happened on May 27, 2021, at approximately 2:15 p.m.  A Planned Parenthood employee named "Isella" called 911 for a hemorrhaging patient but reported that there was no "doctor" on the scene.  This increased the danger to the woman because there was no one on duty that was qualified to treat her.
Police and fire units were dispatched to provide Advanced Life Support.  However, the city units were soon cancelled by REMSA, a private ambulance service, which took over care of the bleeding woman and presumably transported her to a local hospital emergency room.
Hemorrhaging is a relatively common yet life-threatening complication to the abortion pills, which are comprised of two drugs. Misoprostol deprives the growing baby of nutrients and Misoprostol causes contractions to expel the baby.

A previous incident took place on March 31, 2021.  Related 911 CAD printouts from the police and fire department redacted the reason for the call.  City responders were cancelled upon arrival and it is believed that the person who was having the emergency was transported instead by a private ambulance company.
It is not unusual for Planned Parenthood abortion facilities to use private ambulances to keep from creating a public record of the incident, but it is atypical for them to call 911 and a private ambulance.
"Despite the Fake News recently heralding the safety of abortion drugs, these chemicals are not safe for women.  They have been responsible for hundreds, if not thousands of complications that have required emergency hospital intervention and/or surgery," said Troy Newman, President of Operation Rescue. "The truth about the dangers of the abortion pills are being suppressed by those who want to see an expansion of their use."
Since the China Virus pandemic, abortion pill use is on the rise.  Currently, there is a push by Planned Parenthood and other abortion businesses to make permanent an emergency policy that allows drugs to be prescribed through the telemedicine process and distributed by mail without an office visit. The Biden Administration has so far allowed the "pills by post" policy on a temporary basis, citing the China Virus, after the U.S. Supreme Court ended it in January at the request of the Trump Administration.
These two emergencies at Planned Parenthood illustrate why that is a bad idea, which could possibly cost women their lives.
The number of women who suffer abortion complications annually in unknown.  That is because the reporting of abortion drug complications is not required by most states, including Nevada.  In states that do mandate reporting, there is evidence that abortion drug complications are underreported.  It is estimated that approximately seven percent of women who take abortion drugs suffer one or more complication, most of which require surgical intervention.
________
Note: No audio recordings were available for either of these emergencies.