By Cheryl Sullenger
Chicago, IL – A woman who was in severe pain after a Dilation and Curettage (D&C) abortion at the Family Planning Associates (FPA) abortion facility in Chicago, Illinois, believed something was very wrong.  As she was released from the facility, she was in so much pain that she struggled to walk.
This was her second abortion procedure within five days.  She returned to FPA because she had been in tremendous pain since her initial abortion procedure on Saturday, January 22, 2022.
It was determined that the abortionist had left parts of her baby inside her during the first abortion, so she endured a second procedure on Thursday, January 27.  However, the IV pain medication and pain pills she was given did nothing to alleviate her pain.
She was instructed by FPA staff that if her pain didn't subside, she should return to the abortion facility the following day.
Worried that she was suffering a major complication, she called 911 for an ambulance to help her get to the hospital.
But instead of taking her information and sending an ambulance so she could get checked out by hospital physicians, the operator did something completely unexpected.
He refused to send an ambulance for her.
Below is a partial transcript of the emotional emergency 911 call recording, which was provided to Operation Rescue by the Pro-Life Action League.
Woman (voice indicating obvious distress): I had a procedure done – a D and C procedure done on Saturday [January 22, 2022].  And I had came [sic] back because I couldn't barely walk. I came back for them to do the procedure, um, another procedure and they're still telling me every – everything [is] out, but I can barely walk.  I feel like I'm having a baby!
– – –
911: . . . And did you talk to the staff there?
Woman: Yes, they telling me to keep following up tomorrow – tell me if the pain don't get better to come back tomorrow.  I don't want to keep coming back!  It hurts!
911: Okay, ma'am.  You've just got to follow their instructions.  I mean, they're doctors. They can probably tell you the same thing you'll see when you go to the hospital.  So, it's basically almost the same thing.  They're doctors.  You've just got to follow up.  You've got to let the medicine work.
Woman:  I follow up!  When I – when I follow up, it was still stuff inside of me. 911: Okay – what procedure did you have?
It appeared that the 911 operator was confused about what a "D&C" abortion is because he referred to it on the Incident Details report as a "DNC."  He also never seemed to grasp the fact that she had endured two surgical abortions within five days and was now in a dangerous amount of pain.  In fact, it seems he initially thought the woman had taken abortion pills – an indicator that he had likely fielded calls from women experiencing chemical abortions in the past, and was most familiar with that kind of abortion complication.
Woman:  I had a D&C. This matter [?] is the second D&C I had.
Near tears, the woman told the 911 operator that she had IV pain medication and pain pills, but none of that worked.
911: Well, first, you've got to give the medication time to work.
Woman:  It's been an hour.
911:  It's not going to work within just an hour, okay?  An hour's not enough. . . You've just got to follow the doctor's instructions and see what happens. You got to give it a day.  In a day see what happens. . . If you go to the emergency room, it's the same doctor so they're probably going to tell you the same thing. [Emphasis added.]
It is unclear if the 911 operator mean that she would see the same doctor at the hospital that gave her the abortion, or if he meant that she would see a doctor at the hospital like she saw a doctor at the abortion facility. Based on other 911 calls from this facility, FPA almost always asks for injured women to be transported to Northwestern Hospital in Chicago.
Sadly, the woman gave in and hung up without an ambulance being dispatched.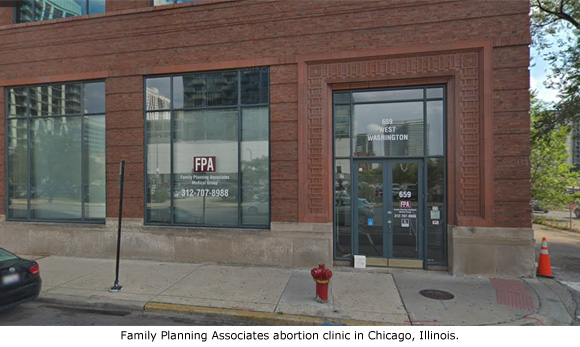 "It was upsetting to hear that dispatcher refuse her call for help.  That's not his job.  His job is to dispatch an ambulance and whatever other resources the woman needed," said Operation Rescue President Troy Newman.  "He had no idea what her condition was, and even if he did, he is unqualified to give out medical advice.  But above all, the operator had no idea if she would even live to see another day."
Operation Rescue has documented several incidents where women were released from facilities after abortions only to die from their injuries with hours or days.  [See Operation Rescue's reports on the following deceased women: Erwin, Lowery, Morales, Parks, Williams.]
"It was obvious from her voice that she was suffering an unusually high level of pain that was beyond what might be expected after an early abortion. She already had at least one botched abortion just days earlier.  Pain medication wasn't giving her relief.  She could barely walk. Based on that information, the woman should have been transported to the hospital for an impartial evaluation by physicians," said Newman.  "It's unconscionable that did not happen.  Today, we do not know if she is alive or dead."
Operation Rescue has documented 15 abortion emergencies at the Family Planning Associates in Chicago.
This facility's staff has repeatedly asked for ambulances to come with no lights or sirens – an indication they did not want the public alerted to an abortion emergency in progress. [One example here.]
The most recent ambulance run occurred on December 15, 2021, when an FPA employee downplayed the injuries that required emergency hospitalization.  She requested an ambulance for a 21-year-old woman who experienced a "uterine injury" during an abortion. Uterine injuries, such as perforations, can be life-threatening conditions. [Listen here.]
The caller also asked that the ambulance run with no lights or sirens and told the 911 operator that the injured woman just need to go to the hospital to be "observed overnight."
It is possible that the woman who was having severe pain in January may have also suffered a uterine perforation or other internal injuries, just like the woman in December. If that was the case, her life was in danger.
"It's unconscionable that she would be denied an ambulance with the bad advice to 'give it a day.'  She might not have had a day," said Newman.  "It's just not advisable to trust abortionists to be forthcoming about the injuries they cause.  They have a vested interest in making abortion appear safe so customers aren't scared away."
While the incident report for the January 27 incident did not contain the 911 operator's name, it did contain his workstation information.  Operation Rescue plans to lodge a complaint about the operator's conduct.
"That operator needs additional training – in the least – about how abortion complications and how abortion facilities downplay serious abortion injuries when calling 911.  We have reams of documentation of this bad behavior," said Newman.  "But because his withholding of emergency services and poor advice could have resulted in the woman's death, as we have seen in other similar situations, he should be relieved of duty or fired.  As for the woman, unfortunately, we may never know what became of her."