By Cheryl Sullenger
Orange, CA — Operation Rescue has obtained recordings and Computer Aided Dispatch Transcripts for four 911 calls placed from a single Planned Parenthood in Orange, California, three of which were made on the same day seeking emergency transport for patients suffering complications from an abortion and one employee experiencing from chest pain.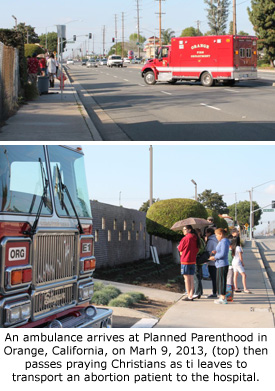 The records raise additional questions concerning patient safety of Planned Parenthood and other abortion clinics across the nation. Operation Rescue has documented 22 medical emergencies occurring at abortion clinics nationwide since January 1, 2013. This includes five medical emergencies at a Planned Parenthood in Wilmington, Delaware, which later fired its abortionist and closed down for "cleaning" after public outcry erupted.
"There simply is no such thing as a 'safe and legal' abortion clinic," said Troy Newman, President of Operation Rescue and Pro-Life Nation. "Women are injured or killed, and babies die as a matter of course in our nation's abortion clinics and we have yet to find one that obeys the law on all points. Health and safety violations are rampant at abortion clinics, and Planned Parenthood is certainly no exception."
The records show that on February 22, 2013, three calls to 911 for emergency help were placed from a Planned Parenthood surgical abortion clinic located at 700 S. Tustin St. in Orange, California.
The first of the three calls that day was placed at 7:28 am reporting that a 44-year old employee was suffering from angina and chest pain. Her color was turning pale. A nurse was present, but no doctor was on the scene. She was transported to the hospital at 8:09 am.
The second call was placed at 12:31 pm indicating that a 34-year old patient was suffering from seizures and convulsions. She had fallen out of a wheelchair and was "foaming through the mouth" according to the Planned Parenthood employee who placed the call. The ambulance was cancelled by abortionist John Paul McHugh, who told the emergency dispatcher that they would hold on to the patient and observe her condition.
At 6:00 pm, a third call was placed from the same Planned Parenthood abortion clinic. By this time, the dispatcher readily recognized the address as belonging to Planned Parenthood.
The caller reported a medical emergency with another 34-year old patient, who possibly could have been the same patient who suffered the seizures earlier in the day. This time, the reported condition was hemorrhage and lacerations. The patient suffered an altered state of consciousness, according to poorly redacted CAD transcripts, was alert on and off, and was experiencing abnormal breathing. Her blood pressure was dropping and Planned Parenthood workers were starting to administer oxygen. Emergency workers transported her to the hospital emergency room at 6:24 pm.
"It appears that the abortionist on duty, John McHugh, was having a very bad day," said Troy Newman, President of Operation Rescue and Pro-Life Nation. "From the descriptions on the record, this last patient was very close to bleeding out from some kind of laceration inflicted on her during her abortion."
But that was far from the end of Planned Parenthood's problems.
On March 9, 2013, at 3:34 pm, a Planned Parenthood employee placed a call to 911 seeking transport to University of California-Irvine hospital emergency room for a 26-year old second trimester abortion patient suffering from hemorrhage and lacerations. The patient was transported to the hospital at 3:59 pm.
Second trimester abortions are usually 2-3 day procedures and involves the dismemberment of the baby. Laceration and hemorrhage are common complications from this abortion process, which is done blindly by the abortionist and involves grasping and pulling motions that require force due to the advanced development of the baby.
Operation Rescue has documented four other medical emergencies at the Planned Parenthood in Orange. Those incidents took place on February 18, 2013, and September 16 and 29, 2009.
"Planned Parenthood needs to close this dangerous abortion mill down," said Newman. "They pretend to care about women, but their actions — including a steady stream of ambulances rushing patients to the emergency room — speak louder than words."
Please contact the Orange County Health Department and demand an immediate site inspection of Planned Parenthood located at 700 Tustin Ave., Orange, CA.

Orange County Health Department Site Mitigation:
Voice: 714-433-6262
E-Mail: ssundaram@ochca.com
UPDATE: The e-mail recipient above is referring people to the following link where they can file a formal complaint: https://hfcis.cdph.ca.gov/LongTermCare/ConsumerComplaint.aspx. Please feel free to do so. You do not have to have direct knowledge to file a complaint.
View Planned Parenthood of Orange's profile page at AbortionDocs.org to view the CAD transcripts.