By Cheryl Sullenger
Kettering, OH – Two 911 recordings obtained by Operation Rescue show that two separate abortion patients were hospitalized within three hours on December 11, 2014, after suffering serious injuries at Women's Med Center, a late-term abortion facility owned by the notorious Martin Haskell. Women's Med Center is located in the Dayton suburb of Kettering, Ohio.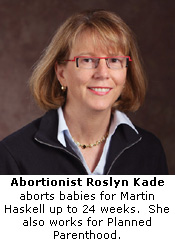 The Women's Med Center was not equipped to treat either of the life-threatening complications that women experienced that day.
The first call for help came at 12:16 p.m. on Thursday, December 11, 2014. A 23-year old woman was rushed to a nearby hospital suffering from uncontrolled vaginal bleeding.
During the call, laughing men can be heard clearly in the background. Operation Rescue was unable to determine whether the laughing occurred inside the abortion facility or at the 911 dispatch center. However, during a 911 call placed by Haskell on March 28, 2012, he can be heard laughing at a dispatcher's offer of further emergency instructions while another patient suffered life-threatening seizures.
The second 911 call placed on December 11 came at 3:10 p.m. The 29-year old patient was suffering from abdominal pain, a symptom that often indicates serious internal injuries, such as uterine perforation or hemorrhage.
The abortionist on duty that day was Roslyn Kade, a long-time associate of Haskell's who has beene involved with other abortion-related injuries. She also works for Planned Parenthood.
On February 29, 2012, Kade lost her unrestricted privileges at Christ Hospital and currently holds no privileges with any other hospital facility.
"Kade was apparently having a very bad day and the ones who suffered for it were the young women who entrusted her with their lives, only to be dumped on the local hospital emergency room physicians when things went south," said Newman. "This is a case in point for why hospital privileges and transfer agreements are so critically important. They ensure that there is continuity of care and weed out incompetent abortionists who cannot meet the hospital's high standards."
Kade has been involved in other abortion abuses. In 2007, while working at Planned Parenthood, Kade was sued by parents whose then thirteen-year old daughter was impregnated by her soccer coach. Kade gave the young girl an abortion without obtaining parental consent or reporting the suspected incidence of child sexual abuse.
Earlier this year, the Ohio Department of Health won a lengthy legal battle to shut down Haskell's Sharonville abortion facility for failing to maintain a required hospital transfer agreement or valid variance.
Currently, Haskell's facility has no valid hospital transfer agreement as required for licensing, but continues to operate in Kettering while his application for license and variance renewal is pending.
"The Ohio Department of Health should refuse to renew the facility license of Haskell's Kettering abortion clinic for the same reasons it shut down his Sharonville operation," said Newman. "Women continue to suffer life-threatening abortion complications without the guarantee that they will receive adequate or timely treatment. Ohio authorities shouldn't wait until someone dies before taking action to protect women."