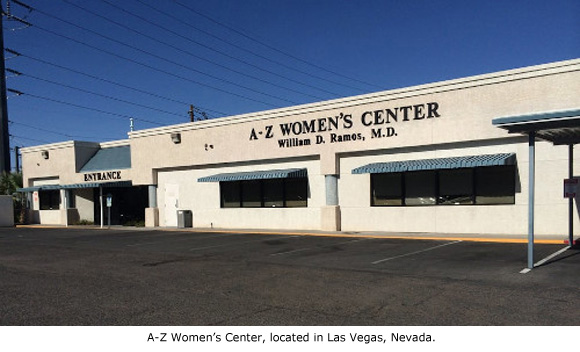 By Cheryl Sullenger
Las Vegas, NV – Three women who received abortions at the A-Z Women's Center in Las Vegas, Nevada, were hospitalized with life-threatening abortion hemorrhages within an eight-week span of time.
The emergencies, which occurred between January 28 and March 26, 2021, all resulted in ambulance transports to Sunrise Medical Center Hospital, according to 911 records obtained by Operation Rescue.
January 23, 2021
The first incident took place on January 23, 2021, when a 911 call was placed by an A-Z Women's Center employee for a 31-year-old woman whose botched abortion involved serious vaginal bleeding that led her to suffer seizures and unconsciousness.
"Um, well, we're an abortion facility.  We're having a patient here that – she just had an abortion, and she has some excessive bleeding," the caller told the 911 operator.  "Looks like she's having seizures now.  We need an ambulance."
Loss of consciousness occurs after the loss of 30-40 percent of a person's total blood volume.  The woman involved in the medical emergency likely required a blood transfusion to save her life — if indeed she survived.
An ambulance was dispatched with the use of lights and sirens.
"We honestly do not know if this woman is still alive after this horrific botched abortion experience," said Troy Newman, President of Operation Rescue.  "She was already in very bad shape by the time the 911 call was placed."
Read the 911 CAD from this incident.
March 4, 2021
The second medical emergency at A-Z Women's Center involved a 31-year-old woman who hemorrhaged after an abortion.  It happened on March 4, 2021.
The 911 call audio file contained radio communications between an EMT and Sunrise Hospital as the ambulance crew began the transport to the hospital.  This provided more information about the woman's condition after she was evaluated by EMTs.  This kind of information is not normally made available.
Details provided by the abortion facility worker appeared to be erroneous or minimizing of the woman's condition when compared to the situation report given by the EMT to the hospital.
The partial transcript of the A-Z Women's Center employee shows the woman is bleeding but is relatively fine otherwise.
A-Z:  We're actually an abortion clinic.  We just have a patient who is bleeding a lot.  She's very heavily bleeding.

…

911:  Okay, and did she already have the abortion and then she's been bleeding?

A-Z:  Yes.

911:  Afterwards.  Okay.

…

911:  But is she completely alert?

A-Z: …Yes, she's alert and with the doctor.

911:  Is she breathing normally?

A-Z: …Yes, her pulse and everything is good.
Contrast that with the EMT's report to Sunrise Hospital.
Sunrise Hospital ER.  AMR 182.  ETA about 8-10 minutes.  On board I have a 27-year-old female [different than what the A-Z caller noted] who's hypotensive after having abortion surgery.  We're at the A-Z Women's Center.  31-year old female just had an abortion and has heavy bleeding.  Patient is having [?] bleeding. Vaginal bleeding after the surgery.  Her blood pressure is 61 over 27.  She's tachya 110. [Rapid heart rate.]  She's already got – received 1,000 ccs of fluid and blood pressure's still low.  But she is conscious and able to talk to me.  She's complaining about abdominal cramping.  I've got IV established…  See you in about 10 minutes.
It seems that the woman's pulse was anything but good, according to the EMT.
As a person hemorrhages, the heart begins to beat faster to compensate for the blood loss.  The rapid heartbeat is known as tachycardia.  The loss of blood also results in hypotension, which is low blood pressure. This patient had both conditions, indicating a significant loss of blood.
She was given fluids intravenously to compensate with the expectation that it would normalize her pulse and blood pressure, but in her case, the increased fluids did not fully offset the blood loss.  Her heart continued to race, and her blood pressure remained dangerously low at 61/27.
The woman also suffered abdominal pain, a significant symptom that was never mentioned by the abortion facility worker.
"This was a very serious medical emergency that would have sounded almost routine if the only information we had was the 911 call placed from the abortion facility," said Newman.  "However, the EMT's report to the hospital gives us a reality check about the true nature of her life-threatening condition."
Read the 911 CAD from this incident.
May 26, 2021
Just three weeks later, another woman suffered severe abortion complications – this time from a second trimester abortion.
The 911 call recording showed that the caller made it clear the emergency was at an abortion facility.
"Um, we're a termination facility.  We do abortions here.  We have someone in the second trimester who is bleeding very heavily.  The doctor asked if we could call an ambulance," she said.
Yet somehow, the 911 dispatcher treated this obvious abortion complication as an ongoing second trimester pregnancy.
"Just have her assume the most comfortable position and have her take deep breaths between the pains that she's having," the 911 operator told the clinic worker.
A-Z Women's Center's web site indicates that it conducts single-day abortions up to 22 weeks gestation.  The D&E dismemberment procedures used in the second trimester usually take 2-3 days to minimize injuries to women.
Since abortion risks climb with each week of gestation in the second trimester, trying to do D&E abortions in one day only compounds the dangers of an already risk-filled abortion.
This unadvisable practice may have contributed to the woman's injuries.
Radio traffic from the ambulance included at the end of this 911 call once again provided additional information and insight into this woman's emergency.
"We are responding to a Charlie level pregnancy," the emergency responder said.
Emergencies are designations range from Alpha, which is a non-life-threatening condition, to Echo, which indicates possible death or near-death condition.  A Charlie level emergency is considered life-threatening.
Read the 911 CAD from this incident.
Abortion training facility
The A-Z Women's Center is affiliated with the Kenneth J. Ryan Residency Training Program in Abortion and Family Planning through the University of Nevada School of Medicine Las Vegas.
This program is operated by the Bixby Center for Global Reproductive Health, whose purpose it is to expand abortion world-wide for depopulation purposes.  Many abortion facilities that train Ryan residents tend to have high incidents of abortion complications, according to Operation Rescue's research that has documented medical emergencies at abortion facilities for over a decade.
At the A-Z Women's Center, abortion clients are told to contact the facility in the event of problems arising from their abortions.  They are urged not to seek help at a hospital emergency room.
"Should you go to an emergency room for treatment, the hospital staff may not be sympathetic to your circumstances," the abortion facility's website warns.
"Why would an abortion facility try to scare women away from hospital emergency rooms?  It is because it is easier to keep the true nature and number of complications hidden if the abortion facility completely controls women facing problems after abortions," said Newman. "This policy has the best interests of the abortion facility in mind, not the best interests of the women."
Abortionists at A-Z
The A-Z Women's Center appears to have changed owners in 2019, when Seattle, Washington, abortionist Charlie Browne appeared on a form filed with Clark County, Nevada, indicating he is the sole proprietor of ABBR Enterprises Nevada, which does business as the A-Z Women's Center.
Browne once worked at the now-shuttered Germantown Reproductive Health Services in Germantown, Maryland, where he filled in for the notorious LeRoy Carhart doing abortions through all nine months of pregnancy.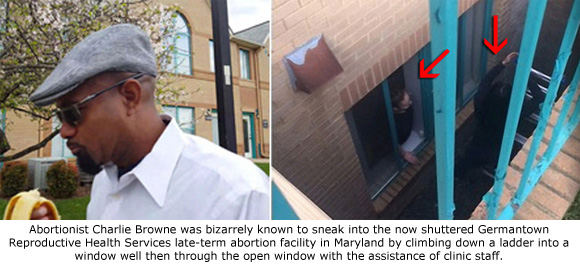 Bizarrely, Browne was known to sneak into that facility by climbing down a ladder placed in a window well, then entering through the open window.
While the 911 records do not indicate who conducted any of the three severely botched abortions, abortionists who are known to work at A-Z Women's Center include a rogue's gallery of miscreants:
William Douglas Ramos:  Former owner of A-Z Women's Center.  Ramos, 76, has a slew of medical malpractice suits, some for which his insurance company paid out settlement cash.
Willie James Parker:  Once the darling of the Abortion Cartel who claimed to be a Christian, this traveling abortionist fell out of favor after he was involved in a sex scandal where he was accused of sexual misconduct and predatory sexual behavior.
Stewart Kernes: Doctor of Osteopathy who voluntarily relinquished his hospital privileges at Waukesha Memorial Hospital (Wisconsin) in 2005 while he was under disciplinary investigation for unstated misconduct. He is a former abortionist at the horrific Northern Illinois Women's Center in Rockford, Illinois, which was closed in 2012 for gross health code violations.
Carla Torres:  She appears to be an active-duty Air Force doctor.  In 2018, the Air Force reported a medical malpractice/personal injury case against her to the Nevada State Board of Medical Examiners that involved a patient who was paid $75,000 in settlement after she wrongfully lost an ovary and fallopian tube during an unstated procedure done by Torres.
As for the facility itself, Nevada does not routinely license or inspect abortion clinics.  This "hands-off" policy is known to contribute to deteriorating conditions at facilities that are completely unaccountable to oversight.
"For any abortion facility that experiences three life-threatening medical emergencies in just eight-weeks, it is an indication that something is very wrong," said Newman.  "Operation Rescue plans to lodge a formal complaint against the A-Z Women's Center and demand a full investigation into this recent spate of life-threatening botched abortions. I urge Nevada to shut this dangerous abortion mill down permanently."