By Cheryl Sullenger
Jacksonville, FL – In an all-too-frequent scene at abortion facilities in America, an ambulance was spotted at the Women's Choice of Jacksonville abortion facility in Jacksonville, Florida, on Friday, September 27, 2019.
Operation Rescue obtained the 911 recording and CAD transcript, both of which were heavily and unnecessarily redacted.
An employee of a Women's Choice of Jacksonville phoned 911 at 1:07 p.m. for emergency assistance with a patient.  A fire unit and ambulance were dispatched.
The Jacksonville Fire Department covered all information about why city emergency services were summoned under a shrill screeching sound that blocked out the conversation between the abortion facility employee and the 911 dispatcher.
However, Operation Rescue was able to obtain a brief recording of the emergency radio dispatch that told first responders that they would be dealing with a "traumatic injury."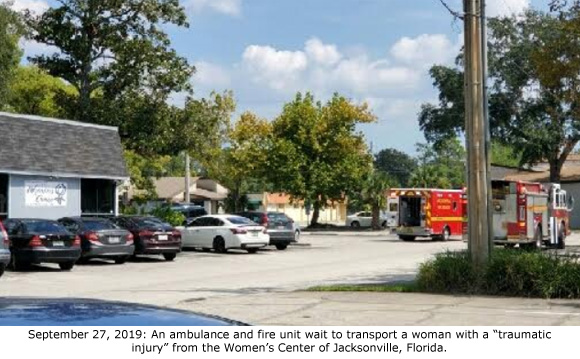 A few questions heard between the lengthy 911 call redactions shed light additional light on the patient's condition.  "Is she bleeding any?"  "Is she pregnant now?"
While that is not much information, it is enough to confirm that a woman walked into the Women's Choice of Jacksonville, and left in an ambulance suffering a traumatic injury that most likely involved bleeding during or after an abortion, and that her injuries were so bad, the dispatcher had to reassure the clinic employee that help was coming as quickly as possible.
"When cities make the decision to cover up for abortion facilities by over-redacting public records, all they are really doing is enabling the abortionists' dangerous practices to continue and even worsen," said Troy Newman, President of Operation Rescue. "The cities that abortion abuses from the public are as much to blame for patient injuries as the abortion facilities.  When women sue for malpractice, they should also sue these cities for hiding important information about previous injuries that may have informed their abortion decisions and prevented further tragedy."
Learn more about this abortion facility and its "Rogues Gallery" of troubled abortionists at AbortionDocs.org.