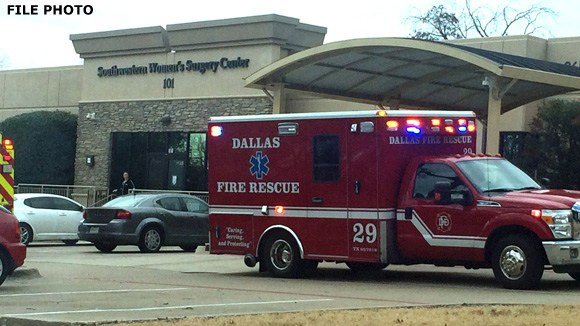 By Cheryl Sullenger
Dallas, TX – A 30-year old woman suffered "excessive bleeding" so severe that it prompted a 911 call for help from the staff at Southwest Women's Surgery Center, an abortion facility in Dallas, Texas, according to a 911 Computer Aided Dispatch printout obtained by Operation Rescue.
Requests for the audio recording of the call that was placed on August 25, 2020, was denied by the City of Dallas.
However, the CAD report noted that while the woman was conscious and breathing at the time of the call, she was also suffering "fever, cough, or shortness of breath."
The woman was transported to Texas Health Presbyterian Hospital in Dallas for "evaluation."
"It is becoming typical for abortion businesses to downplay abortion complications, such as excessive bleeding, which is a potentially life-threatening condition.  They tell 911 operators that women who are bleeding out need to be transferred to a hospital for 'observation' or 'evaluation,'" said Operation Rescue President Troy Newman.  "They make it sound like it's no big deal, but excessive bleeding is a very big deal that can lead to unconsciousness, cardiac arrest, and death, depending on the volume of blood lost."
It is notable that the "Surgery Center" apparently had no way to treat the woman's hemorrhage, which is a well-known and common abortion complication.
Southwestern Women's Surgery Center is owned and operated by 83-year old Curtis Boyd, who also owns Southwestern Women's Options in Albuquerque, New Mexico, one of the few abortion facilities in the U.S. that openly conduct abortions throughout all nine months of pregnancy.
Boyd is famous for having admitted to doing illegal abortions prior to the 1973 Roe v. Wade Supreme Court decision, and also admits that he understands that he is killing when he commits an abortion.
Boyd has perversely stated that he prays for his abortion victims, claiming, "I'll ask that the spirit of this pregnancy returns to God with love and with understanding."
"There is no way to justify taking an innocent human life and putting the lives of pregnant women in danger – certainly not by claiming some false religious doctrine," said Newman. "Killing a baby in the womb is an evil act that he has done thousands of times and paid others to do thousands more. I pray that in his waning years, he repents and turns from his wicked ways and receives forgiveness and salvation through Jesus Christ. In any case, his dangerous abortion mills should be closed."
[Video upload dated Nov 6, 2009.]