By Cheryl Sullenger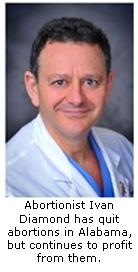 Birmingham, AL – Just two weeks after botched abortions at Birmingham's New Woman All Women sent two patients to the hospital with life-threatening injuries, a Georgia abortionist with financial ties to the clinic has quit doing abortions there.
Abortionist Ivan Diamond has stopped doing abortions in Birmingham under pressure from pro-life activists, according to Fr. Terry Gensemer, director of CEC for Life, who met with a representative of Diamond's employer in Atlanta, Georgia, last week where the news was confirmed.
On January 21, 2012, ambulances and fire department vehicles were summoned to the New Woman abortion clinic where paramedics were forced to negotiate gurneys down a trash-strewn alley only to discover that the rear entrance of the clinic could not accommodate them. One woman, bloodied and partially clad, was hand-lifted from a narrow doorway and down several steps with a broken safety rail to an awaiting gurney. A second woman was wheeled to her gurney in a wheelchair.
Diamond has financial affiliations with Diane Derzis, who is listed as the owner of New Woman and of the Jackson Women's Health Organization, the last remaining abortion clinic in Mississippi.
"In OR's experience, clinics like New Woman have a narrow hold on staying in business. They have two possible botched abortions for which they are being investigated, a dilapidated building, and one of their abortionists jumping ship," said Troy Newman, president of Operation Rescue and Pro-Life Nation, who has been consulting with Fr. Genesmer concerning their efforts to close the dangerous abortion clinic through peaceful and legal means.
"While ceasing the practice of abortion in Alabama is a good first step, Diamond should completely divest himself from the abortion business and stop profiting from the taking of innocent human life."
Diamond's departure leaves only one part-time abortionist at New Woman All Women.
"We are praying that New Woman's last abortionist will also quit amid a growing investigation into dangerous conditions at that abortion mill," said Newman.