By Cheryl Sullenger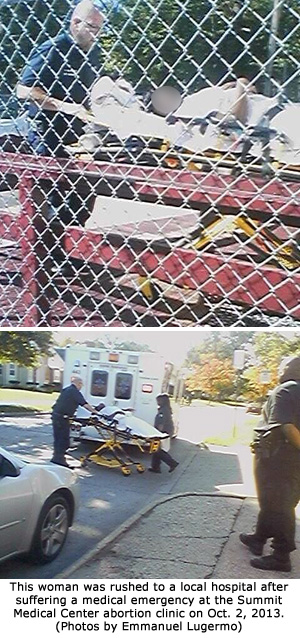 Detroit, MI – An ambulance was summoned to the Summit Medical Center abortion clinic in Detroit, Michigan, yesterday, and rushed an African-American woman to the hospital. This is the second such incident at this abortion clinic since March.
Pro-life activist Emmanuel Lugermo ignored orders by the clinic security guards not to photograph the incident. His pictures show a woman on a gurney in obvious distress. Witnesses on the scene said she was trembling or shaking.
Reginald Sharpe, an abortionist with a long and sordid history, was on duty at the time of the emergency. Sharpe was known to have killed a patient in January, 2008 during a botched second trimester abortion. Sharpe reportedly perforated the woman's uterus and "cut a uterine blood vessel, lacerated her intestines, and liver." She died eight days later.
In March, Sharpe closed two abortion clinics and declared bankruptcy in order to avoid payments on at least five malpractice cases where he was responsible for injuring women, including the 2008 patient death.
Sharpe was also on duty during the March, 2013, incident where pro-life activists captured video of a second-trimester abortion patient being loaded into an ambulance waiting in the Summit parking lot.
"All pro-lifers must be at the mill with a camera, must be!" noted long-time pro-life activist Lynn Mills of Pro-Life Detroit. Mills reported the incident and provided photos to Operation Rescue.
"It's shocking that a man like Sharpe would be allowed to continue to practice medicine. He's been a one-man public health disaster," said Cheryl Sullenger, Senior Policy Advisor for Operation Rescue. "This abortion injury represents a failure in the system to protect or even to care about the lives and health of women. We demand that Michigan authorities act to protect women immediately from this dangerous abortion clinic and its incompetent abortionists."
View Summit Medical Center's profile page at AbortionDocs.org
View Reginald Sharpe's profile page at AbortionDocs.org