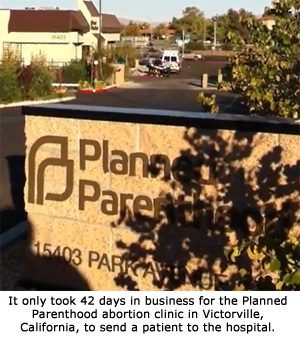 By Cheryl Sullenger
Victorville, CA – After just 42 days in business, a patient at the Planned Parenthood clinic in Victorville was rushed to the hospital suffering from an unspecified medical emergency.
However, the Victorville clinic is not supposed to be doing abortions. The incident raises questions about what services are actually going on inside that Planned Parenthood office, and whether the emergency was related to abortion.
An ambulance arrived at the Planned Parenthood clinic at about 5:30 p.m. on October 21, a half hour after the business was scheduled to close for the day. A woman was removed from the clinic on a gurney and rushed to the hospital.
The incident was reported to Operation Rescue by a local pro-life activist who filmed the incident on a cell phone.
"This is the first medical emergency at this Planned Parenthood, but it surely won't be the last. Pro-life supporters who worked to prevent this clinic from opening were correct to be concerned for women's safety, as this incident shows," said Troy Newman, president of Operation Rescue. "The city council that approved this dangerous abortion operation bears responsibility for every injury and death."