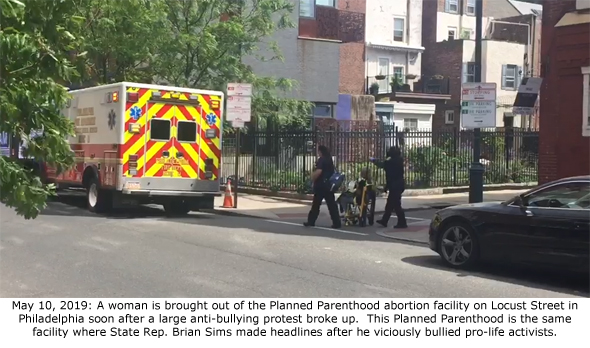 "This is another example of just how dangerous abortions really are.  Planned Parenthood tells the public that abortions are the safest 'procedure,' yet hundreds of documented medical emergencies at the abortion facilities themselves debunk that false narrative," said Newman. "We pray that every abortion facility in America is closed down so women and their babies will no longer suffer from the barbaric practice of abortion."

[This is a developing story. Stay tuned for updates as we get them.]

By Cheryl Sullenger Philadelphia, PA – Nearly 1,000 pro-life supporters had gathered in front of a Philadelphia Planned Parenthood abortion facility on Friday, May 10, 2019, to protest the bullying of pro-life activists by State Rep. Brian Sims.  But after the protest was over and the crowd had cleared the streets, an ambulance was dispatched to that same Planned Parenthood facility. One pro-life supporter, Antonio Calimano, captured the incident on video. At approximately 3:00 p.m., an ambulance arrived at the Planned Parenthood facility on Locust Street in Philadelphia, Pennsylvania.  Emergency responders can be seen in Calimano's video pushing a woman in a wheelchair out to the ambulance.  She was loaded into the ambulance's side door before being transported, apparently to a nearby hospital. "We question whether this Planned Parenthood delayed calling an ambulance for this woman until after they thought all the pro-lifers had left for the day.  It certainly wouldn't be the first time a Planned Parenthood delayed calling for emergency medical assistance," said Troy Newman, President of Operation Rescue, which documents such emergencies at abortion facilities.