By Cheryl Sullenger
Falls Church, VA – An ambulance was called to the Falls Church Health Care Center abortion facility on February 3, 2018, to transport a woman to a nearby emergency room. Emergency responders were inside the facility for about 15 minutes before the woman was finally wheeled to the ambulance.
The incident was photographed by pro-life activist Ruby Nicado of Lifeguard, who told Operation Rescue that just as the woman was being brought out of the facility on a gurney, one clinic escort shoved an umbrella in to her face to block her camera. That aggressive move was unnecessary because the patient was completely covered with a sheet so her identity was never in jeopardy.
Moments later, the abortionist on duty that day, Jan Paul Fruiterman, emerged from the abortion facility and rode with the ambulance to the hospital.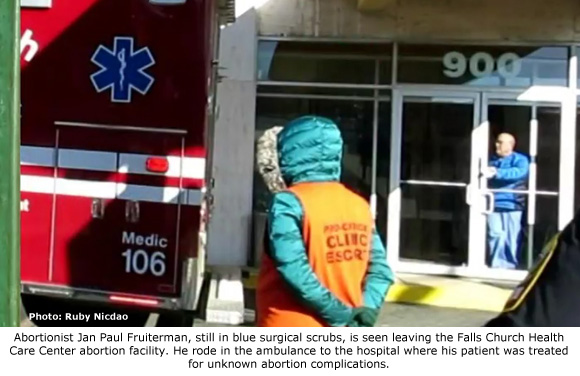 Operation Rescue attempted to retrieve records related to the expected 911 emergency dispatch, but none existed, making it likely the abortion facility bypassed the 911 system and called an ambulance directly. This practice results in slower response times than dialing 911, delaying care for those experiencing medical emergencies.
Nicdao was able to learn that the patient was alive when she reached the hospital and "improved a great deal quickly" once there.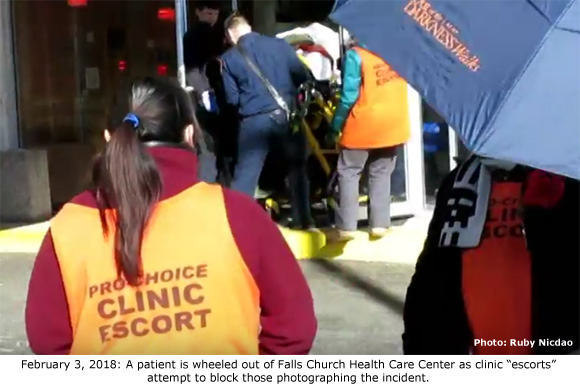 The Falls Church Health Care Center has a record of failed inspection reports dating back to 2012, just prior to the enactment of minimum licensing requirements in 2013.
The most recent inspection report, dated November 17, 2016, contained 13 pages of citations. It noted "the agency was not incompliance" with licensing regulations.
Citations included the failure to ensure that all employees participated infection control training. As a result, it was found that the facility had the following violations:
• Equipment was not properly cleaned between patients.
• Cleaning solutions were not prepared in accordance with manufacturer's specifications. This can affect the effectiveness of the cleaners.
• Failed to observe sanitary practices for administering IV drugs.
• Failed to properly use personal protective equipment, such as eye protection during surgical abortion procedures.
The Falls Church Health Center also failed to ensure all employees were trained in fire safety or emergency/disaster training, engaged in shoddy record keeping, and other violations.
But perhaps most disturbing was an incident when one woman was given the abortion drug Misoprostol and a dose of Librium for anxiety prior to a scheduled surgical abortion. However, the abortionist had failed to determine the gestational age of the baby prior to dispensing abortion inducing drugs, as required. In Virginia, businesses licensed as Abortion Facilities are allowed to do abortions up to 13.6 weeks. Abortions later than that are required to be done at a hospital or Ambulatory Surgical Facility.
Uncomfortable with conducting the abortion beyond the legal limit, the unnamed abortionist discharged the patient with a prescription of birth control pills and a referral to another facility. There is no record of any follow-up to ensure the patient actually went to the other facility.
"Essentially, Falls Church Health Care gave a patient abortion-inducing drugs, then kicked her to the curb when it was discovered she was too far along. This was a huge lapse in compliance that placed the women, who was in her second trimester of pregnancy, in a potentially dangerous situation," said Troy Newman, President of Operation Rescue. "With one failed inspection report after another along with practices that place the lives and heath of women in danger, this abortion facility should be closed."
It is doubtful that will happen under the current Democratic state administration, which "eviscerated" licensing standards last year, rendering them nearly meaningless, according to Virginia Cobb, President of the Family Foundation. The Board of Health has also ended monthly reports on abortion facilities at their meetings, which had been previously required.