By Cheryl Sullenger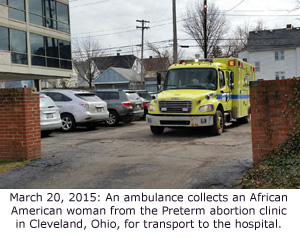 Cleveland, OH — Just one day before the one-year anniversary of Lakisha Wilson's fatal abortion at Preterm abortion clinic in Cleveland, Ohio, another ambulance was called to render emergency assistance to a patient suffering a medical emergency.
The ambulance arrived at Preterm around 3:15 pm on Friday, March 20, 2015. Emergency responders were seen wheeling out of the abortion facility an African-American woman estimated to be in her mid-twenties on a gurney that was in the seated position.
Documents obtained by Operation Rescue indicate that all five of Preterm's surgical rooms are located on the third floor. Gurneys can only access those rooms via a small, sometimes malfunctioning elevator that can only accommodate a gurney in the upright, seated position.
Fred Sokol, who was the only pro-life activist on the scene at the time of the incident, took pictures with his cell phone and texted them to Operation Rescue as events unfolded.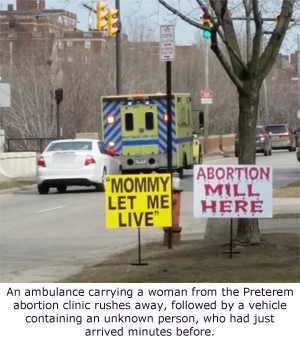 According to Sokol, paramedics spent only a few minutes inside the abortion facility before emerging with the woman. "Everything happened so fast," he said.
The patient's condition is currently unknown.
On March 21, 2015, 22-year old Lakisha Wilson received a second trimester abortion done by Lisa Perriera. While still on the abortion table, Wilson suffered what experts believe was hemorrhagic shock from massive blood loss and slipped into cardiac arrest.
Eventually, Preterm staff called 911, but by then Wilson was not breathing at all and Perierra could not restart her heart. Paramedics were delayed in reaching Wilson by the malfunctioning elevator, according to documentation received by Operation Rescue. By then her pupils were fixed and dilated.
The cramped size of the elevator prevented paramedics from intubating Wilson until she was moved to the ambulance. The hospital placed her on life support to preserve her organs for donation and she was pronounced dead on March 28, 2014.
"We knew that it was not a matter of time before another woman was hospitalized or even killed at Preterm," said Troy Newman, President of Operation Rescue. "We know from the evidence in our possession that Preterm is unsafe. That fact that Preterm is still allowed to operate represents a gross regulatory failure that is continuing to endanger women."
Operation Rescue possesses evidence that proves the Ohio Department of Health is aware of the malfunctioning elevator that has delayed emergency care to women experiencing life-threatening emergencies on at least two occasions, yet has failed to protect the public from this hazard.
A coalition of Pro-life groups have called for a criminal investigation into Wilson's death, but one has yet to be initiated.
"We call again on the Ohio Department of Health to shut down this dangerous abortion business and we renew our call for an investigation into criminal negligence that likely contributed to Wilson's death," said Newman.
This is a breaking story. Watch for updates.
Photos provided to Operation Rescue by Fred Sokol.