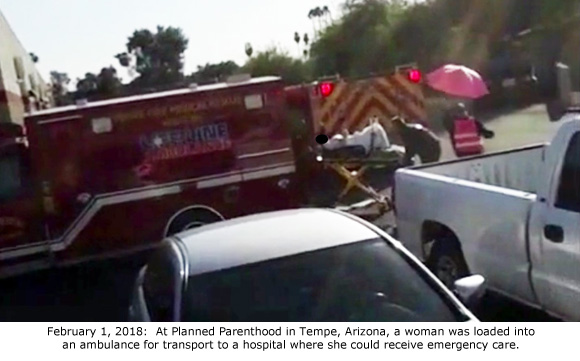 By Cheryl Sullenger
Tempe, AZ – An ambulance was called to the Planned Parenthood abortion facility in Tempe, Arizona, on the morning of February 1, 2018, to transport a woman who was suffering a medical emergency.
Pro-life activist Jim Fitzsimmons, who is the 40 Days for Life Campaign Director in Tempe, Arizona, told Operation Rescue that the recording of this incident, which was done from the property next door, prompted Planned Parenthood to call the police.
The New Tempe Regional Health Center Planned Parenthood abortion facility uses a vocal group of "escorts" who have been known to disrupt pro-life activities, including the recording of incidents involving medical emergencies.
Ambulance & paramedics at the Tempe Planned Parenthood on February 1, 2018 from Jim on Vimeo,
While the condition of the woman remains unknown, video taken at the scene shows her awake with her legs bent on the flat gurney. She appeared to be in some discomfort. An IV bag could be seen near her side.
"The fact that America continues to fund Planned Parenthood with our Federal tax dollars is appalling, given the number of women injured and innocent babies killed by them," said Operation Rescue President Troy Newman. "Today everyone is concerned about gun violence against children, but Planned Parenthood slaughters more babies in one day than all the school shootings combined. If we truly want to keep women and children safe, Planned Parenthood abortion facilities should be immediately defunded and closed."
Google reviews for the Tempe Planned Parenthood reveal a callous treatment of women, who have given it only 2.7 stars out of a possible 5. Complaints focused on rudeness of the staff toward the patients.
"Let me just say the female doctor here is very rude will [sic] never go back," stated one reviewer who gave the Planned Parenthood one star.
Three female abortionists who have been known to work at this facility include Belinda K. Beck, Laura Dalton, and Maria Platia.
"Planned Parenthood acts like they care more about women than anyone, but the women who actually have gone there say the truth is something far different. Planned Parenthood will apparently do or say anything to lure in pregnant women so they can be exploited for profit," said Newman.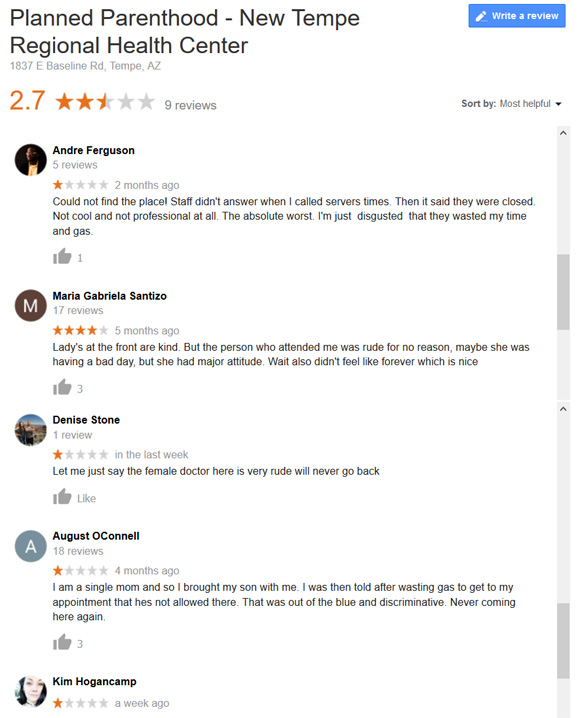 This is the 68th medical emergency documented by Operation Rescue at an abortion facility since January 2017. It represents the seventh known incident so far in 2018.
Of those 68 medical emergencies over the past 13 months, 38 of them involved Planned Parenthood facilities.