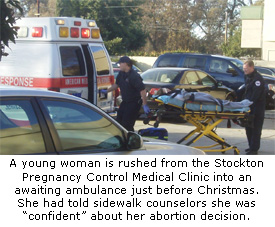 By Cheryl Sullenger
Stockton, CA — A young woman sporting a Christian fish symbol on the back of her car walked past sidewalk counselors just before Christmas on Thursday, December 22, and into the Stockton Pregnancy Control Medical Clinic abortion facility. An hour and a half later, she was wheeled out on a gurney and loaded into an awaiting ambulance for emergency transport to a nearby hospital.
The woman had told pro-life activist Don Blythe as she entered the clinic that she was "quite confident" and "happy" with her decision to abort. Blythe had attempted to offer her practical help and information in an attempt to help her save the life of her baby.
"It is so sad that a baby died and a mother was seriously injured after being warned of abortion dangers. I wonder how confident she is in her abortion decision now. This is a Christmas tragedy that will haunt her for the rest of her life," said Operation Rescue President Troy Newman.
"There is also a lesson for the Christian church in America in this incident: You are not immune from the problem of abortion and until the pulpits take a stronger stand against this sin, abortion tragedies like this will continue in your congregations."
The abortionist believed to have been on duty at the time of the life-threatening abortion complication was Christopher Mills, an abortionist who has been working in the abortion industry for 30 years.
Blythe told Operation Rescue that women frequently stop to tell him of their abortion horror stories experienced at Stockton Pregnancy Control. He said ambulance visits to that clinic are not rare.
"Life-threatening abortion injuries and abortion-related deaths have become so common that they make the pre-Roe back alley abortionists look good," said Newman. "The way to ensure the public safety is to close the abortion clinics and extend true help to women that is not going to land them in the hospital or in the grave."