Boulder, CO – One of America's few abortion facilities that conducts abortions throughout all nine months of pregnancy was the site of a medical emergency on April 2, 2019.
The Boulder Abortion Clinic, owned and operated by late-term abortion specialist Warren Hern, summoned an ambulance at around 11:00 a.m.
A video taken at the scene by a pro-life activist shows that the ambulance pulled into the parking lot next to the fenced and gated abortion facility and began to off-load a gurney when a worker came out and instructed them to pull around to the back of the building.
EMTs reloaded the gurney into the ambulance as a fire unit arrived in support.  A brief video clip showed the ambulance parked in an alley at the back of the abortion facility, where a patient was apparently loaded and taken to a local hospital.
"We have ordered the 911 records, but it can take some time to get them.  In the meantime. We know that someone suffered a medical emergency that required ambulance transport from one of the most notorious full-term abortion facilities in the nation," said Troy Newman, President of Operation Rescue.
While it is unknown whether a late-term abortion was involved in the April 2 incident, abortions done in the second trimester and beyond carry much greater risks than first trimester abortions.   Those risks increase with each week of gestation.
The Boulder Abortion Clinic is one of six abortion facilities in the nation that openly admits to conducting the latest of abortions into the ninth month of pregnancy.  When asked how late one could get an abortion at the Boulder Abortion Clinic, one of Hern's receptionists told an Operation Rescue researcher late last year, "We go as high as needed."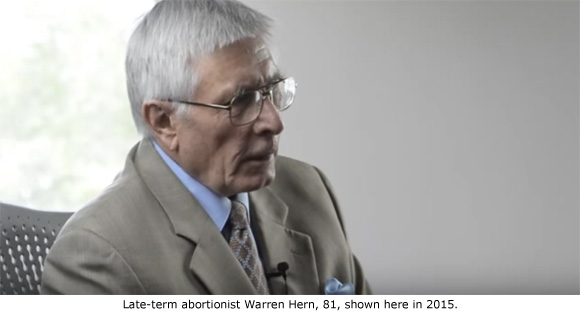 Hern literally wrote the book on abortion when he published a textbook titled Abortion Practice in 1984, which is still considered a definitive work on the subject today. He is known as the inventor of abortion instruments, such as the Hern Forceps, a grasping instrument that is used to grab and remove tissue from the uterus during an abortion.
Operation Rescue will post updates as further information becomes available.