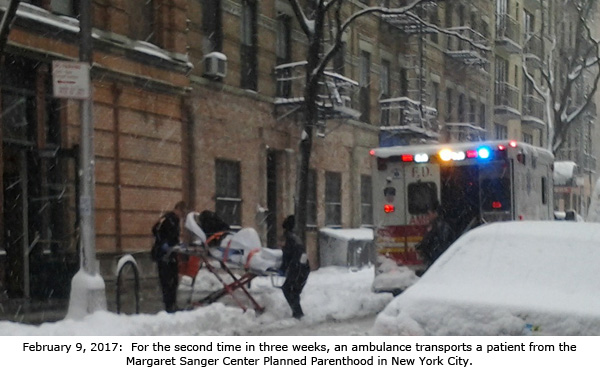 By Cheryl Sullenger
New York City, NY – For the second time in three weeks, an ambulance has transported a patient from the Margaret Sanger Center Planned Parenthood abortion facility in New York City.
According to a pro-life activist who snapped photos of the incident, an ambulance arrived around noon on February 4, 2017, and emergency responders entered the Planned Parenthood center. Paramedics soon returned to the ambulance for a gurney. At approximately 12:25 p.m., they emerged with a patient on the gurney with her head covered with a black cloth.
"We have studied hundreds of medical emergencies at abortion facilities, and it seems like 25 minutes is an unusually long time for paramedics to be on the scene," said Operation Rescue President Troy Newman. "We don't really know what happened, but one reasonable possibility is that it took the paramedics time to stabilize the patient before transporting her."
Other medical emergencies documented by Operation Rescue at this same Planned Parenthood abortion facility include the following:
• January 18, 2017: A woman was removed from the abortion facility on a gurney and wheeled to the ambulance, passing under a large pink banner that ironically read "Healthcare happens."
• November 4, 2016: African-American woman who was carted out of Planned Parenthood in a wheelchair, put onto a stretcher, and loaded into an awaiting ambulance.
• March 1, 2016: African-American woman was brought out of the abortion facility in a wheelchair and helped into ambulance.
• May 4, 2013: Ambulance transport woman from Margaret Sanger Center Planned Parenthood.
Cecile Richards, the CEO of Planned Parenthood Federation of America has stated, "The healthcare and the safety of our patients is our most important priority."
However, the frequency of recent medical emergencies at their flag-ship New York abortion facility says otherwise.
"Planned Parenthood's rhetoric is often very different from reality," said Newman. "Two hospitalized patients within three weeks is appalling, and an indication that there are serious patient care issues at the Margaret Sanger Center Planned Parenthood."