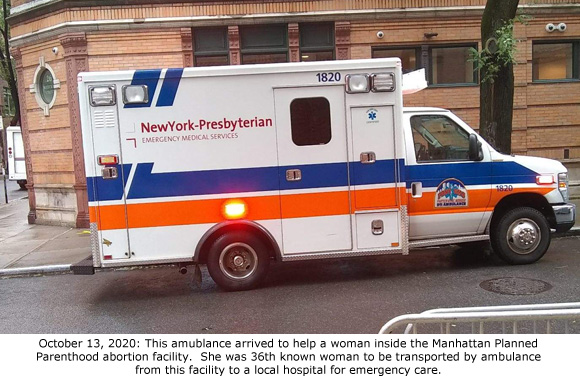 By Cheryl Sullenger
New York, NY – As Bishop Peter Byrne was praying across the street from the Manhattan Planned Parenthood abortion facility as part of a 40 Days for Life campaign, an all-too familiar incident occurred: an ambulance arrived to care for a woman inside Planned Parenthood.
The emergency took place on Tuesday, October 13, 2020, and represents the thirty-sixth known medical emergency at this facility, which was formerly known as the Margaret Sanger Health Center Planned Parenthood.
After the ambulance arrived from the New York-Presbyterian Hospital, emergency responders entered the abortion facility and were inside for ten to fifteen minutes before emerging with a woman who was taken away by the ambulance.  A man who had accompanied her to the Planned Parenthood facility reportedly followed the ambulance as it left the scene.
According to records kept by Operation Rescue, an ambulance was spotted at this Planned Parenthood abortion business 13 times in 2019.  The emergency on October 13 was the third such incident there in 2020.  The decline in medical emergencies is attributed to the China Virus outbreak that hit New York City particularly hard, resulting in some of the most restrictive lock-downs in the nation.
"The decrease in the number of ambulances summoned to the Manhattan Planned Parenthood this year does not mean it is safer.  It just means that due to the China Virus shutdowns, fewer women had an opportunity to suffer botched abortions, and fewer pro-life supporters were allowed on the street to observe emergencies that may have occurred," said Troy Newman, President of Operation Rescue.
The Manhattan Planned Parenthood is a high-volume abortion facility that was forced to drop the name of its founder, Margaret Sanger, amid a scandal set off in June by a public letter signed by 300 New York Planned Parenthood employees. That letter accused New York Planned Parenthood CEO Laura McQuade of "systemic racism, pay inequity, and lack of upward mobility for Black staff," abusive behavior, and financial malfeasance. That scandal forced McQuade's resignation.
According to Newman, little has actually changed at Planned Parenthood since then.  He explained, "Outwardly, Planned Parenthood had to drop the Margaret Sanger name in order to appease the mob, but unfortunately, it still practices Sanger's racist eugenics philosophy by continuing to disproportionately target minority communities for abortion."