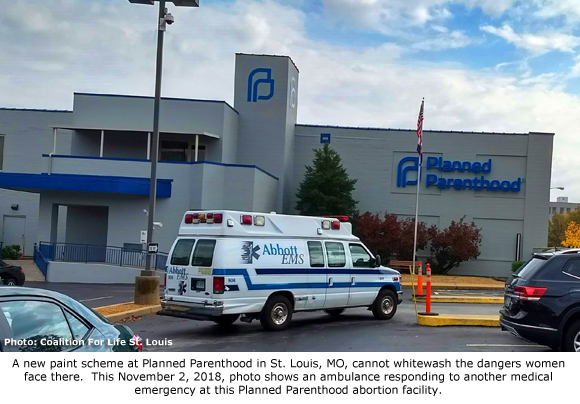 By Cheryl Sullenger
St. Louis, MO – For at least the 70th time since 2009, an ambulance has transported a woman from Planned Parenthood's Reproductive Health Services abortion facility in St. Louis, Missouri.
According to Brian Westbrook, director of the Coalition for Life St. Louis, the medical emergency took place on November 2, 2018, at 11:30 a.m., while pro-life supporters prayed on the sidewalk outside the dangerous abortion facility.
The ambulance that responded to Planned Parenthood's call for help was Abbott EMS, a private ambulance service. That means there no records are subject to a public records request. That means it is unlikely that the reason this woman was transported to a hospital emergency room may never be known.
Eleven minutes after arriving on the scene, the ambulance left Planned Parenthood without using lights or sirens with a patient on board.
Westbrook reported that the abortionist David Eisenberg, Medical Director of the Planned Parenthood facility, was apparently on duty at the time of the incident.
It was Eisenberg that questioned an inspector from the Missouri Department of Health and Senior Services last year about whether hand washing protocols were something new after having been caught not washing his hands between glove changes. The abortion facility he oversees was cited for numerous violations such as unsanitary facility conditions and practices.
Planned Parenthood was also cited for failure to report abortion complications.
"Abortion facilities like this Planned Parenthood go to great lengths to conceal abortion complications from the public," said Troy Newman, President of Operation Rescue.
In fact, Operation Rescue was forced to sue the St. Louis Fire Department for failing to comply with legal requests for public records related to medical emergencies at RHS Planned Parenthood. Information about the medical emergencies were eventually released.
"Planned Parenthood has a lot of political influence in St. Louis and even the Fire Department was covering up for them," said Newman. "But secrecy of that sort only places women at risk. They have a right to know that the St. Louis Planned Parenthood abortion facility is considered on of the most dangerous in the nation."
For other information about other documented medical emergencies at Reproductive Health Services Planned Parenthood, clinic this link to Abortion911.com, then click Missouri in right hand column.