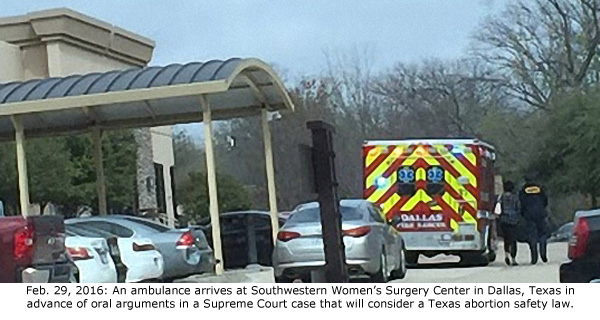 By Cheryl Sullenger
Dallas, Texas – Less than 48 hours before the U. S. Supreme Court will hear a pivotal Texas abortion case focused on women's safety, an ambulance transported a woman from Southwestern Women's Surgery Center, an abortion clinic in Dallas, Texas.
The ambulance was photographed by a pro-life activist at Southwestern Surgery Center on Monday, February 29, 2016, at about 1:06 p.m.
"This latest medical emergency at a Texas abortion facility only emphasizes abortion risks and how important it is for abortionists to maintain minimum safety standards and hospital privileges within 30 miles of their abortion facilities," said Operation Rescue President Troy Newman.
Southwestern Women's Surgery Center is one of a handful of Texas abortion facilities that have been able to comply with ambulatory surgical center licensing requirements, which include the hospital privilege requirement that is being challenged by another Texas abortion business, Whole Women's Health.
But even licensing as an ambulatory surgical center has not diminished the risk of complications to abortion that frequently send women to hospital emergency room for treatment that abortion facilities are not equipped to provide.
Phillip C. Abel, 73, is thought to have been the abortionist on duty during the medical emergency.
Operation Rescue was able to deduce from court records that about 1,000 Texas women suffering abortion complications were hospitalized each year prior to the closing of about half of Texas' abortion facilities in 2014 due to the safety law now before the Supreme Court.
The Liberty Counsel submitted an amici curiae brief on behalf of Operation Rescue in the Whole Women's Health v. Hellerstadt case, which is set for oral arguments before the nation's highest court on Wednesday. That brief relied on documentation provided by Operation Rescue to show that medical emergencies at abortion facilities are routine, and that without hospital privileges, women facing life-threatening abortion complications face further harm due to a failure of abortion facilities to provide continuity of care. This can delay emergency treatment in cases where minutes might mean the difference between life and death.
A second amici curiae brief submitted by the American Center for Law and Justice also heavily relied on Operation Rescue's extensive research into abortion abuses nationally, but especially in Texas.
Operation Rescue discovered widespread abortion abuses in Texas during a 2011 investigation that resulted in heavy fines against two Whole Women's Health abortion facilities for the illegal dumping of recognizable aborted baby remains in a public dumpster.
In addition, Operation Rescue reported two Whole Women's Health abortionists, Alan H. Molson and Robert E. Hanson, for violations discovered during that same investigation, resulting in thousands of dollars in fines.
Troy Newman will attend a pray vigil outside the Supreme Court in Washington, DC on March 2 while oral arguments are in progress.
Meanwhile, the condition of the patient transported from Southwestern Surgery Center on Monday remains unknown. Thankfully for women who might seek abortions there, an alternative that could save their lives is as close as next door to the abortion facility.
Birth Choice, a pregnancy resource center that is fully accredited by the Accreditation of Ambulatory Health Care (AAAHC) is in the same center and available for FREE help to pregnant ladies six days a week.