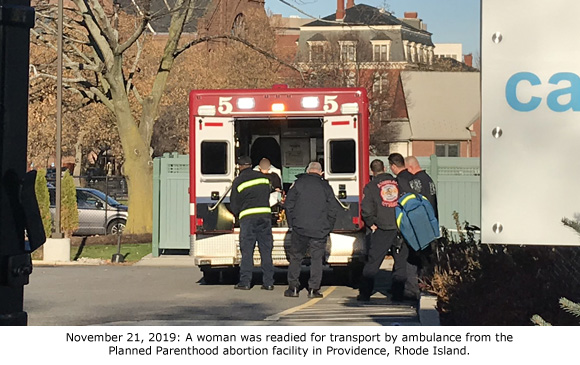 By Cheryl Sullenger
Providence, RI – Rhode Island's sole abortion facility is a high volume Planned Parenthood that has hospitalized two women in the past five months.
The most recent medical emergency occurred on November 21, 2019, when Fire Unit 8 and Rescue 5 were dispatched to the Providence Health Center Planned Parenthood.  A white woman with a pained facial expression was loaded into the ambulance for transport to a hospital emergency room.
Efforts to obtain 911 records in Providence have been rejected citing the need for a subpoena before records can be released. Radio traffic did not mention the the cause of the November 21 emergency.
On June 11, 2019, an African-American was rushed to the hospital suffering from a hole that was torn in her uterus during an abortion at the Providence Planned Parenthood.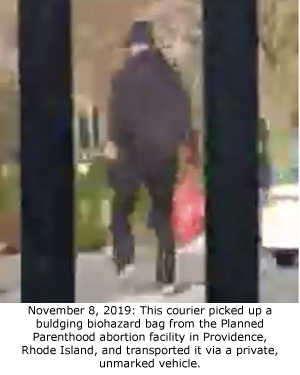 Earlier this year, Rhode Island passed the Reproductive Privacy Act, which relaxed abortion clinic accountability, ended a state ban on partial-birth abortions, and removed a ban on experimentation using aborted baby tissues and organs.
Since then, couriers have been seen at this Planned Parenthood facility weekly picking up small red biohazard bags and transporting them away in private, unmarked vehicles.
During a recent trial in the San Francisco, California, Federal Court, involving undercover videos released by the Center for Medical Progress, Planned Parenthood abortionists and an organ procurement representative admitted that Planned Parenthood facilities continue to contract with outside companies to supply them with aborted baby parts.  There was also evidence that abortion procedures are illegally altered to ensure intact organs that will bring the highest price.
"Its apparent involvement in trafficking aborted baby remains and serious injuries to abortion patients make the Providence Planned Parenthood one to watch," said Operation Rescue President Troy Newman, who also served on the board of the Center for Medical Progress during its undercover investigations into the illegal trade in fetal tissues and organs.