By Cheryl Sullenger
Albuquerque, NM – Project Defending Life is reporting that an ambulance was called yesterday to Southwestern Women's Options, the nation's largest late-term abortion clinic. A woman was transported to the UNM Medical Center for emergency treatment. Her condition is unknown.
Tara Shaver of Project Defending Life told Operation Rescue that pro-life activists on the scene who photographed the incident indicated that police were the first on the scene and attempted to aggressively persuade activists to leave the clinic area. When they stood on their First Amendment rights, the police retreated to their squad car and observed them while the ambulance was at the clinic.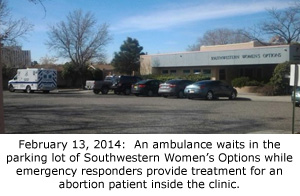 This is the 16th medical emergency documented at Southwestern Women's Options since 2008. The clinic is one of the few in the nation to conduct abortions throughout all nine months of pregnancy and is staffed by California abortionists Shelley Sella and Susan Robinson, former associates of the notorious Kansas late-term abortionist George Tiller.
Another medical emergency that took place at Southwestern Women's Options on February 13, 2014, also recently came to light. Again pro-life activists photographed the ambulance parked outside the abortion clinic as paramedics provide life-saving emergency care to a patient inside, who was later transported to the UNM Medical Center.
"Since the New Mexico Department of Health and the New Mexico Medical Board refuse to protect unsuspecting women seeking abortions we rely solely upon those who volunteer their time at local abortion clinics to document these injuries. It is long overdue that local and state authorities acknowledge and act on this serious crisis," said Shaver.
New Mexico was chosen as the location for the late-term abortion business due to an absence of abortion laws that might provide oversight or even minimum safety regulations. Currently, New Mexico abortion clinics are completely unaccountable to any kind of oversight agency.
"Our prayers are with this woman and those like her who will continue to be injured at Southwestern Women's Options. Those in authority in New Mexico who continue to turn a blind eye to the abortion crisis here in Albuquerque bear direct responsibility due to their inaction," said Shaver.
[Photos provided by volunteers with Project Defending Life and the AHA/Abolitionist Society of Greater Albuquerque Area.]