By Cheryl Sullenger
Fairview Heights, IL – After facing possible license revocation in Missouri due to several life-threatening botched abortions at their St. Louis abortion facility, Planned Parenthood of the St. Louis Region and Southwest Missouri recently opened a new surgical abortion facility just across the Mississippi River in Fairview Heights, Illinois.
Operation Rescue, with the help of local activists, documented 75 medical emergencies at the old St. Louis clinic.  Now, the same Planned Parenthood business is continuing its string of casualties just a few miles away in Illinois, where abortion laws are lax and there is less oversight and accountability.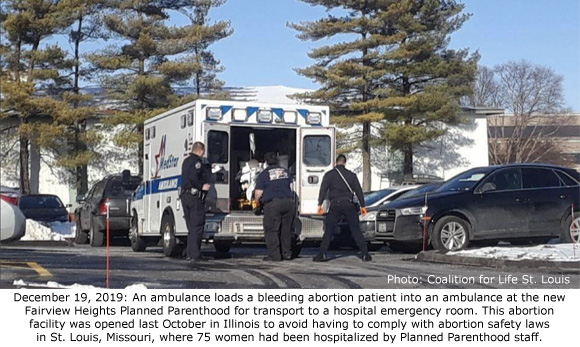 The $7 million Planned Parenthood shelled out for the old, recycled brick structure apparently did nothing to improve patient safety, as illustrated by an emergency first reported by the Coalition for Life St. Louis.
On December 19, 2019, less than two months after the Fairview Heights Planned Parenthood's grand opening on October 23, 2019, an ambulance was called to the new location for the first time – but unfortunately, probably not the last.
"Sidewalk counselors were surprised to see a police car pull into the abortion facility; an ambulance siren less than a minute behind, pulling in and around the building. The woman they were called to help appeared to be conscious, but in major distress and very pale, to those watching," wrote the Coalition for Life St. Louis in an e-mail.
Operation Rescue obtained the clip of the radio dispatch, which revealed more about the medical emergency.  It involved a 23-year old woman who was bleeding badly enough to require ambulance transport to a hospital emergency room.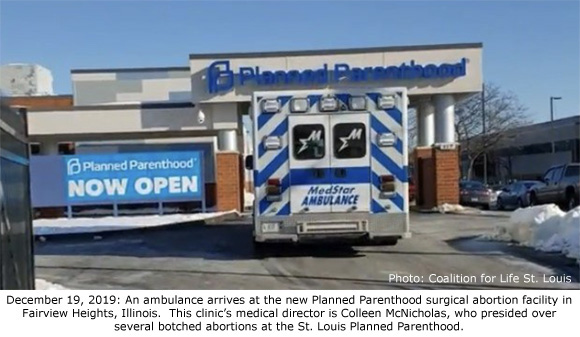 "Planned Parenthood has escaped across the river into Illinois where they can continue their butchery without consequence.  Think about what that means.  They could not comply with patient safety regulations in Missouri, so they went someplace where there were no patient safety regulations.  There is just no thought whatsoever for the women being injured," said Troy Newman, President of Operation Rescue.  "We haven't seen the last ambulance at this abortion mill. There will be others. These people are dangerous not fit to practice."
In November, a Missouri Administrative Court heard the case against Planned Parenthood, which was found to have caused life-threatening injuries to four women.  Five Planned Parenthood abortionists and abortion trainees who were involved in the injuries refused to cooperate with an oversight investigation, so the Department of Health and Senior Services revoked its abortion facility license for safety reasons.
The St. Louis clinic is currently operating under a stay pending the court's ruling, which is expected in February 2020.  Meanwhile, the Fairview Heights Planned Parenthood is picking up where the St. Louis facility left off, taking the lives of innocent babies and placing the lives of their moms at risk.
View Operation Rescue's archive of reports concerning the St. Louis Planned Parenthood's botched abortion and licensing scandal.