Video documents shoddy dumping and medical practices
By Cheryl Sullenger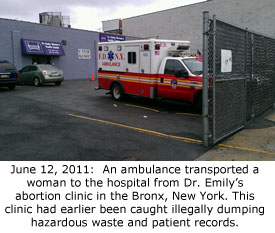 The Bronx, NY — An ambulance transported a patient to the hospital from Dr. Emily's Health Center abortion clinic in the Bronx, New York, yesterday morning as pro-life activists photographed the incident. Witnesses, who wish to remain unnamed, told Operation Rescue that the victim was carried out of the clinic on a covered stretcher to the awaiting ambulance.
"This incident is something we have expected to see at Dr. Emily's abortion clinic," said Troy Newman, President of Operation Rescue and Pro-Life Nation. "Late last year, we were involved in an undercover investigation at this same facility where illegal dumping was taking place. From the sloppy way Dr. Emily's was handling its trash and patient records, we suspected dangerous abortion practices as well."
In January, 2012, complaints were filed by Operation Rescue against Dr. Emily's and its abortionist, Brian E. Park, for numerous violations including the illegal dumping of infectious waste and private patient information after pro-life activists discovered trash piled on the public sidewalk and spilling out of an unsecured dumpster. The trash was in black unmarked plastic bags. When the activists opened the bags, they were shocked by the contents.
The bags contained the following:
Bloody human tissue remains from abortions and other bloody refuse.
Documents and other materials that contained patient names, and other identifying information along with information about medical procedures done on the patients.
Drug-related paraphernalia including drug vials, syringes, and used needles.
"Unfortunately, someone tipped off the clinic that someone had been in their trash. Dr. Emily's moved the trash so when the Sanitation Department went out there, they did not discover the same conditions. Since then, the case against abortionist Brian Park has been closed and the illegal dumping case has been swept under the rug. Bloody evidence in possession of pro-life activists that was supposed to be picked up by the Sanitation Department was never collected. It is appalling that this public health threat was not taken more seriously," said Newman.
"We were told that Dr. Emily's is a repeat offender, which should have made the consequences of further violations more severe. Instead, the authorities did nothing. We can't help but think that if action had been taken on the dumping complaints, perhaps the woman injured yesterday somehow might have been spared."