By Cheryl Sullenger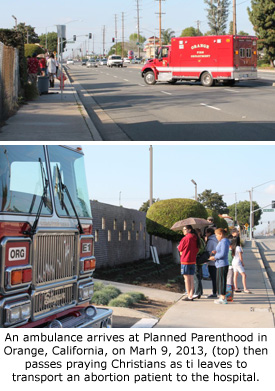 Orange, CA — For the third time in 2013, pro-life activists have reported that an ambulance has responded to Planned Parenthood's call for help and transported a patient to a local hospital. The troubled Planned Parenthood abortion clinic is located at 700 Tustin Dr. in Orange, California.
Pro-Life activists photographed a Fire Department Paramedic ambulance arriving and leaving the Planned Parenthood clinic on March 9 at approximately 3:30 p.m. as they prayed outside the facility. They report that two other medical emergencies took place at this same clinic in February, incidents for which no photographs have been made available.
Operation Rescue has documented at least two previous medical emergencies at this same facility, with the likelihood that there have actually been more.
"Three medical emergencies in less than three months indicates that whoever is doing abortion at this particular Planned Parenthood should not be practicing medicine," said Troy Newman, President of Operation Rescue and Pro-Life Nation. "When we document an ambulance at an abortion clinic, that is just a glimpse through the keyhole at what is really going on. We know there are many more incidents like this that take place when there are no pro-life activists around, and that is a frightening prospect for women and their pre-born babies in the Orange area."
So far this year there have been ambulances called to abortion clinics in Bakersfield, Orange, and Sacramento, California; Denver, Colorado; Wilmington, Delaware; Germantown, Maryland; St. Louis, Missouri; and Albuquerque, New Mexico. In addition to the three reported incidents in Orange, two abortion clinics have experienced multiple medical emergencies this year alone. Those clinics include Southwestern Women's Options in Albuquerque and Planned Parenthood in Wilmington.
"Far too many women are walking into abortion clinics only to be wheeled out on a gurney," said Newman. "The steady stream of ambulances running to and from our nation's abortion clinics proves that abortion is not safe and that more needs to be done in the states to hold incompetent abortionists accountable for their negligence until the heinous practice of abortion can be completely ended."