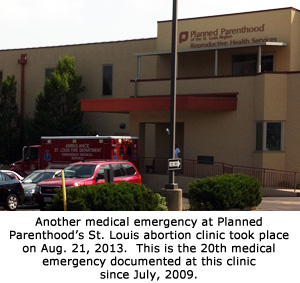 By Cheryl Sullenger
St. Louis, Missouri – Pro-life activists were on the scene at Planned Parenthood in St. Louis, Missouri, this morning at approximately 11:10 a.m. when an ambulance arrived and rushed a gurney into the abortion clinic.
According to an eyewitness report from James Capps, an intern for the Coalition For Life St. Louis, a woman was brought out of the clinic about 10 minutes later while two Planned Parenthood employees tried to prevent anyone from photographing the event.
"Two [Planned Parenthood] workers . . .were holding a large gray screen in an attempt to shield viewers from seeing the girl. But I could still see her from my position; it was a young black girl on a stretcher covered neck to toe in white sheets," reported Capps. "Talk about a scary, heart-wrenching experience. That is something I do not want to see again. . . Simply put I was terrified for her. Please pray."
Capps snapped photos with his cell phone of the ambulance at the scene, which raced away toward a local hospital. The condition of the woman and the extent of her injuries are unknown at this time.
This is the 32nd medical emergency Operation Rescue has documented at Planned Parenthood abortion clinics nationwide since January, 2012.
Mary Mashmier of Defenders of the Unborn has told Operation Rescue that since 2009, her organization has documented 19 previous medical emergencies at the St. Louis Planned Parenthood abortion clinic. Complaints were filed with the medical Board and other agencies after each incident, by no action has ever been taken.
"It is wrong that women are continually placed at risk of life-threatening injury and death at this obviously dangerous Planned Parenthood abortion clinic while authorities that should be looking out for patient safety turn a blind eye," said Troy Newman, President of Operation Rescue. "We call on the Missouri Board of Registration for the Healing Arts to immediately halt abortions at the Planned Parenthood office in St. Louis until a full investigation in the rash of medical emergencies can take place."
This is a breaking news story. Please check back later for developments.
Contact: Missouri Board of Healing Arts
E-Mail: healingarts@pr.mo.gov
View Planned Parenthood of St. Louis' clinic profile with additional documentation at AbortionDocs.org