By Cheryl Sullenger
Germantown, MD — The Maryland Coalition for Life has reported that an ambulance responded to a medical emergency at Germantown Reproductive Health Services on the evening of Sunday, March 20, 2016, and transported an "underage" female patient abortion patient to Shady Grove Hospital.
Late-term abortionist LeRoy Carhart was responsible for the woman's abortion.
This is the twelfth medical emergency documented by Operation Rescue involving Carhart since 2012, and the fourth in four months at his late-term abortion facilities in Germantown, Maryland and Bellevue, Nebraska. This raises new alarms concerning Carhart's competency, since the incidents are becoming more frequent.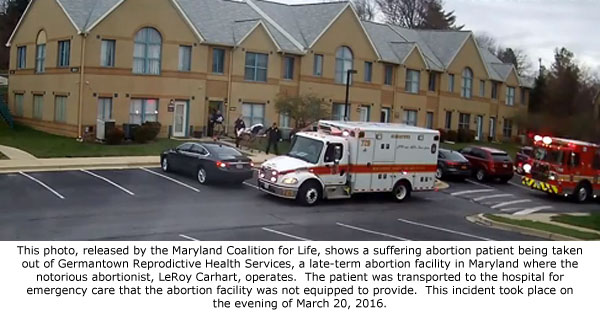 The Maryland Coalition for Life explained the Sunday incident in a written statement:
On Sunday, March 20, six emergency responders in two emergency vehicles rushed a woman to Shady Grove Hospital from LeRoy Carhart's Germantown, Maryland office, marking the fourth woman in four consecutive months to be transported by ambulance due to medical emergencies related to a late term abortion. According to eye witnesses, at 6:04 pm an ambulance transported an underage girl to Shady Grove Adventist Hospital after starting an abortion procedure earlier that afternoon.

Executive Director of Maryland Coalition for Life, Andrew Glenn states: "With this many medical emergencies happening so close together, the Board needs to immediately suspend LeRoy Carhart's license while these unfortunate incidents are fully investigated. There have been 7 documented injuries and 1 death here in Germantown and 5 other serious cases from his Nebraska office. This man is a danger to women, and it is the responsibility of the State authorities to thoroughly examine the competency of this out of state doctor who is nearly 75 years old."

Germantown Pregnancy Choices will be filing a formal complaint to the Maryland Board of Physicians today to report the medical emergencies that occurred during the last four months.
…
Carhart has been flying to Maryland since December of 2010 to conduct late term abortions after his home state of Nebraska approved the Abortion Pain Prevention Act earlier that year prohibiting an abortion at or past 20 weeks.

Germantown Pregnancy Choices is an office providing resources and referrals for women in crisis pregnancies. It is located directly across the parking lot from Carhart's office at 13230 Executive Park Terrace in Germantown, 301-916-5433.
The Maryland Coalition for Life obtained and released raw security video footage of the incident.
"We appreciate the work of the Maryland Coalition for Life and Germantown Pregnancy Choices in documenting these tragic incidents, which include the death of Jennifer Morbelli, who succumbed to complications to a 33-week abortion done by Carhart in 2013," said Operation Rescue President Troy Newman. "It is becoming all too clear that if the Maryland Board of Physicians allows Carhart to continue committing abortions, the causality count of dead and maimed women will only continue to rise. This is a serious public health issue that the authorities must not continue to ignore."
Other medical emergencies involving LeRoy Carhart in Germantown, Maryland, and his office in Bellevue, Nebraska since 2012 include:
• February 4, 2016, Bellevue, NE: Woman transported to hospital suffering from an incomplete abortion. (Video)
• January 19, 2016, Germantown, MD: Late-term abortion patient bleeding seriously transported to hospital. (Video and 911 recording)
• December 15, 2015, Germantown, MD: Abortion patient transported to emergency room while Carhart accompanies.
• July 2, 2014, Germantown, MD: African-American abortion patient transported to hospital.
• April 26, 2014, Bellevue, NE: Patient, 37, suffered from abdominal pain after Carhart had an "issue with the procedure." (Video with 911 recording)
• March 4, 2014, Germantown, MD: Patient hemorrhaged after 2nd trimester abortion complications.
• November 30, 2013, Bellevue, NE: Patient suffered 2nd trimester abortion complications.
• November 26, 2013, Germantown, MD: Patient required emergency surgery. (Video with 911 recording)
• July 9, 2013, Germantown, MD: Patient hemorrhaged. (Video with 911 recording)
• February 7, 2013, Germantown, MD: Patient Jennifer Morbelli died of 3rd trimester abortion complications. (Autopsy Report)
• March 31, 2012, Bellevue, NE: Patient heard moaning and screaming during 911 call (Video with 911 recording.)