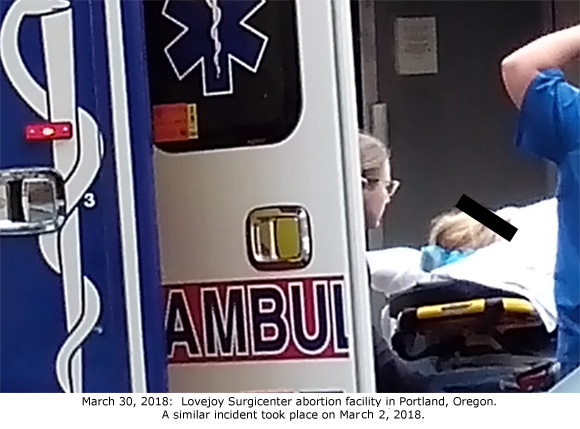 By Cheryl Sullenger
Portland, Oregon — An ambulance was dispatched for the second time in the month of March to the Lovejoy Surgicenter abortion facility in Portland, Oregon.
The Multnomah County EMS Paramedic Unit arrived at Lovejoy Surgicenter at approximately 1:00 p.m. on Good Friday, March 30, 2018, as pro-life activists prayed nearby.
Photos from the scene were provided to Operation Rescue by Therese Ruesink of 40 Days for Life. The photos show abortion facility workers in blue scrubs attempting to block the view of pro-life supporters as a blonde-haired woman was brought out the back door and loaded into the awaiting ambulance.
Ruesink told Operation Rescue that other ambulances have visited the Lovejoy abortion facility on March 2, 2018, and on November 16, 2017.
"We know that there has been a recent change about four months ago in the abortion staff," Ruesink explained. "Maybe their "new" abortionists are not as experienced. Why are there so many ambulances there lately?"
Ruesink intends to look into filing complaints against Lovejoy Surgicenter and seek and investigation into the recent medical emergencies.
"There could be something very wrong at the Lovejoy abortion facility, and we applaud efforts to call for a full investigation," said Operation Rescue President Troy Newman. "This clinic also has a documented history of sexual abuse of patients, so a thorough investigation into all aspects of patient care is needed to make sure this facility has not reoffended."
In 2012, a former clinic worker filed a sexual harassment lawsuit against Lovejoy after she witnessed another female employee molesting sedated abortion patients. The female employee also was known to expose her own breasts to other clinic workers and asked them to fondle her. The offender was eventually fired from Lovejoy.
Lovejoy Surgicenter conducts abortions through 24 weeks of pregnancy. Those done between 20-24 weeks (5-6 months gestation) abortions are three-day procedures, according to the abortion facility's website. These abortions carry more risks, and life-threatening complications can occur that the outpatient facility is not equipped to handle.
However, there is no information about how far along the women were who were transported to local emergency rooms.