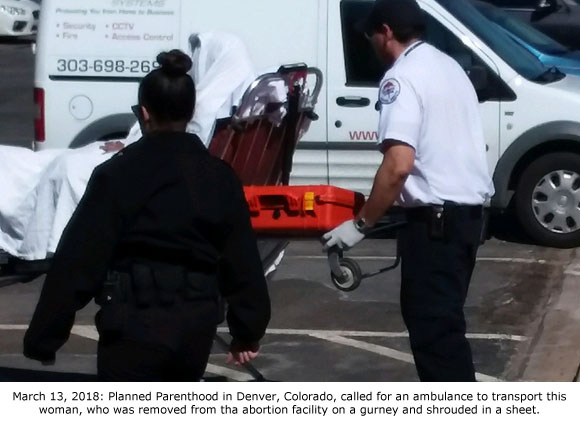 By Cheryl Sullenger
Denver, CO — The Stapleton Planned Parenthood abortion facility in Denver, Colorado, called for an ambulance on Tuesday, March 13, 2018, to transport yet another abortion patient to the hospital. This is the six time such a medical emergency at this Planned Parenthood facility has been documented by Operation Rescue.
However, when radio traffic archives were searched, there was no record of an ambulance dispatch.
"It has been the policy of many Planned Parenthood abortion facilities to sidestep 911, which is the quickest way to get emergency help, and phone ambulance companies directly in an effort to keep any records of the medical emergency out of public records," said Troy Newman, President of Operation Rescue.
The ambulance arrived at the Denver Planned Parenthood around noon, loaded a female patient, and raced away from the abortion facility with lights flashing and sirens screaming.
Sidewalk counselors on the scene begged the injured mother to turn to Jesus Christ for forgiveness.
This is the same Colorado Planned Parenthood facility featured in an undercover video released by the Center for Medical Progress. Abortionist Savita Ginde, who serves as Vice President and Medical Director for Planned Parenthood Rocky Mountains, which operates the Denver abortion facility, was seen identifying baby organs from a dismembered aborted baby that were floating in a glass dish.

"I know I've seen livers, I've seen stomachs, I know I've seen plenty of neural tissue. Usually you can see the whole brain come out usually," said Ginde, gesturing with her arms to illustrate the way the brains spill out of the head.
"I think the 'per item' thing works a little better just because we can see how much we can get out of it," Ginde concluded, indicating that arrangement would bring more money.
Planned Parenthood of the Rock Mountains is currently under investigation by the Department of Justice for illegally profiting from trafficking in human baby remains. Savita Ginde continues to work there, but there's no word on whether she was involved in the recent medical emergency.
"The crop of abortionists now working at abortion facilities across the nation are the worst of the worst. The abortion industry is where disgraced doctors go when they can't get a job anywhere else," said Newman, who also served as a founding board member for the Center for Medical Progress. "With the help of pro-life activists, we are attempting to gather as much documentation on medical emergencies at abortion facilities as possible to prove that abortion is not only fatal for the baby, but is more dangerous for the mother that Planned Parenthood wants you to believe."
Operation Rescue encourages those who minister outside abortion facilities who witness medical emergencies to send photos, video, and incident details to us at info.operationrescue@gmail.com.