University of New Mexico Experimental Late-Term Abortion Facility Must be Closed
By Anne Reed | Updated 7/19/23, 4:50 p.m.
Albuquerque, NM — So far this year, Operation Rescue's friends at Abortion Free New Mexico (AFNM) have documented five medical emergencies at UNM Center for Reproductive Health (UNMCRH), the University of New Mexico's freestanding abortion clinic in Albuquerque.
The University of New Mexico, the state's oldest and largest university, prides itself in its commitment to research as a central part of its mission and utilizes its late-term abortion facility for that purpose. UNMCRH performs abortions up to six months (24 weeks) of pregnancy.
As the gestational age of the in utero child increases, so do the risks to the mother during and after an abortion. The process of murdering a large and intricately developed baby in the second trimester is gruesome and dangerous.
In connection to these five medical emergencies, AFNM has reported the following potentially life-threatening complications:  "retained fetal body parts, uterine rupture or perforation, cervix laceration, infection, heavy hemorrhaging, embolism, abnormal placentation, disseminated intravascular coagulation, seizures and more."
Pursuant to the federal Freedom of Information Act, Operation Rescue has repeatedly requested 911 records for these emergencies to provide additional documentation. However, the city of Albuquerque has failed to supply these publicly accessible records.
#1: January 13, 2023 
On Friday, January 13, a reliable source from inside the facility reported that patients were being forced to reschedule their abortion appointments because of complications suffered by a woman inside.
#2: January 31, 2023 
On January 31, a prayer volunteer with AFNM's No Sidewalk Without the Savior Initiative captured a photo of multiple ambulances on location.
#3: February 9, 2023 
On Thursday, February 9, AFNM volunteers captured video footage of a woman being wheeled out on a gurney and placed into an ambulance.
#4: February 15, 2023 
On Wednesday, February 15, volunteers observed and captured a photo of a woman being placed into an ambulance for emergency transport during the lunch hour.  This emergency occurred just six days after the last documented abortion complication emergency.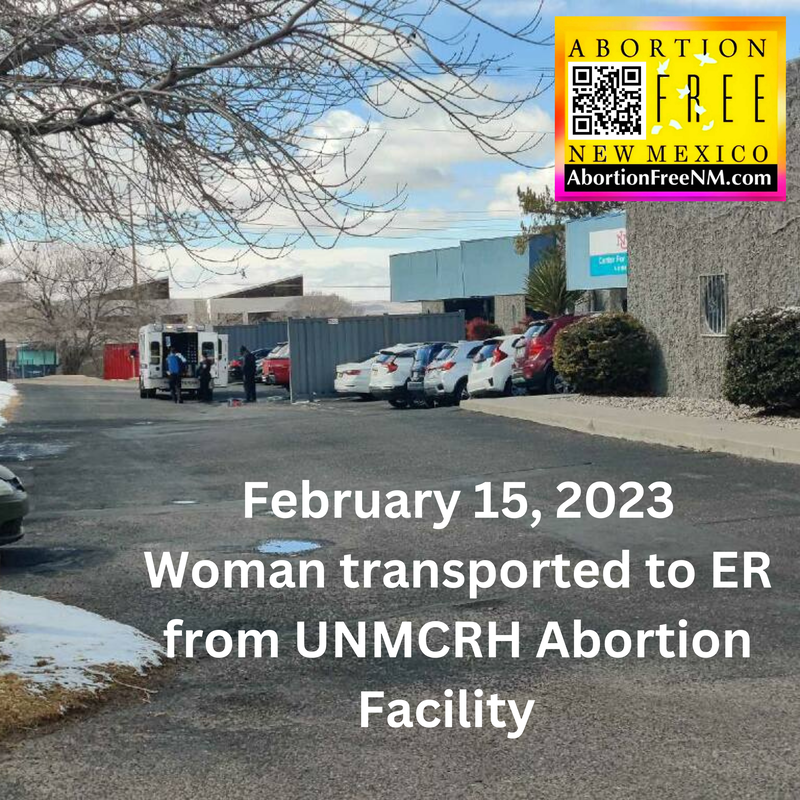 #5: May 31, 2023
On Wednesday, May 31, at about 2 p.m., a woman was loaded into an ambulance for transport to the emergency room. This is the fifth documented botched abortion at this location in 2023 – so far.
UPDATED INFORMATION: #6: July 19, 2023
On Wednesday, July 19th, the day Operation Rescue reported on five medical emergencies at UNMCRH, volunteers with AFNM documented yet another emergency. Photos were captured of two emergency vehicles, and emergency medical intervention was provided for a woman transported to a nearby emergency room. Again, it is unknown what injuries were sustained because the City of Albuquerque refuses to release redacted 911 call recordings.
​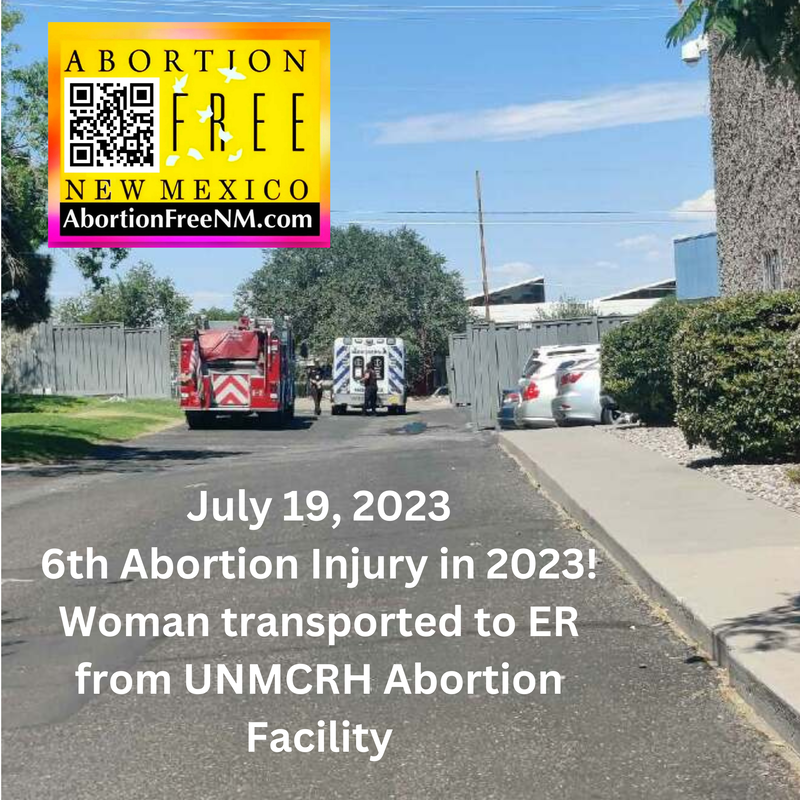 "Our colleagues at Abortion Free New Mexico have done a phenomenal job of exposing the University of New Mexico's killing center for its steadily increasing rate of abortion injuries," said Operation Rescue President Troy Newman. "Together with Project Defending Life, we revealed the university's participation in the Ryan Residency Training Program in 2011, which is dedicated to making sure abortion is available in hospitals.
"Unsuspecting women are traveling from other states wrongly believing this late-term abortion facility is a safe medical clinic providing actual healthcare.  Killing is not healthcare. And people who kill other people are not going to have the same degree of concern for their patients as those who save lives for a living. Under their so-called care, babies are dying and women continue to be injured or killed. These emergencies are only a continuation of what has been happening at this Nazi-like experimental killing center for years.
"Operation Rescue joins Abortion Free New Mexico in calling on the governing leadership at the University of New Mexico to immediately and permanently shut the doors of this dangerous late-term abortion facility," Newman continued. "This publicly funded institution has no business operating a facility that exploits women in dangerous experiments while murdering their precious, innocent babies."