By Cheryl Sullenger
West Palm Beach, FL — An ambulance was called to the embattled West Palm Beach, Florida, abortion facility, Presidential Women's Center, on Thursday, October 11, 2018, for a woman who was hemorrhaging, presumably after an abortion.
According to local pro-life activist M. Susan Pine of FACE Life, Inc., an ambulance arrived at the abortion facility at around 4:15 p.m. with lights flashing and sirens blaring. People associated with Presidential Women's Center held up a plastic sheet to keep anyone from seeing what was happening, but Pine said that one pro-life activist was able to see an African-American woman on a gurney as she was loaded into the ambulance.
About ten minutes later, the ambulance left with the patient without using lights or sirens.
Operation Rescue confirmed through Palm Beach Fire radio transmissions that the ambulance was dispatched to care for a hemorrhaging woman.
The abortionist believed to be on duty during the medical emergency was Daniel N. Sacks.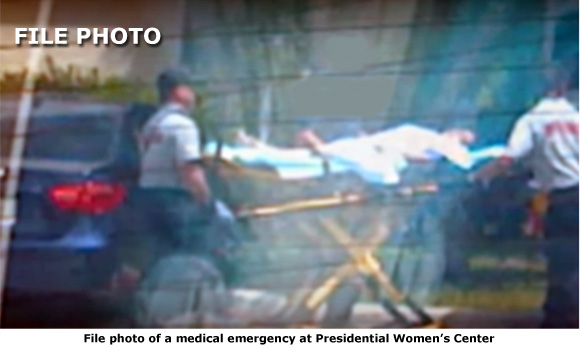 In November 2016, Presidential Women's Center was referred for criminal investigation and possible prosecution by the U.S. House Select Panel on Infant Lives for engaging in the illegal sale of aborted baby remains for profit. The criminal referral indicated that Presidential Women's Center had profited at least $20,600 from selling aborted baby tissue and organs to Stem Express, a middle-man company that also did business with Planned Parenthood.
In February 2017, a Florida prosecutor confirmed that the abortion facility was indeed under "criminal review." A year later, a crime scene van was spotted at Presidential Women's Center, raising hopes that a prosecution was imminent, however, any action against Presidential's allegedly corrupt business has yet to be taken.
"While we wait for justice, Presidential Women's Center continues to injure women and act as if they are above the law," said Troy Newman, President of Operation Rescue. "It is tragic, really, that a House Investigative panel obtained enough documentation on criminal conduct that they sent a criminal referral to Attorney General Pam Bondi a full two years ago, yet there has been no investigative conclusion. Why nothing is being done to hold this abortion business accountable and shut it down is puzzling, to say the least."