Shocking information on decades of abuses prompts call for greater oversight of troubled abortion industry nationwide. Read about what you can do below!
By DeAnn Flanagan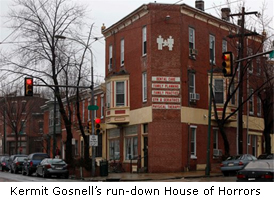 Philadelphia, PA – More details are emerging about Philadelphia abortionist Kermit Gosnell, whose license was suspended Monday after authorities investigating an abortion death discovered dozens of fetal remains and "deplorable and unsanitary" conditions at his seedy abortion clinic.
"Every time I go to the Internet, I find another horror story about this guy," said Operation Rescue Senior Policy Advisor Cheryl Sullenger. "The story keeps getting worse, as we have found so many times doing our own investigations of abortionists across the nation. It is chilling to think of how many abortionists like Gosnell are out there that have not yet been exposed because of a general lack of oversight. The authorities just are not checking up on the abortion industry, unless something really bad happens to surface, as in this case. But what we do hear about is just the tip of the iceberg."
Gosnell's recent troubles began when he killed Karnamaya Mongar, 41, on November 20, 2009, after she was overdosed on painkillers during an abortion in her 18th or 19th week of pregnancy. Some of the medication was illegally administered by an unlicensed worker, according to Gosnell's suspension order. Mongar's brother, Dambher Ghalley, told reporters that Gosnell's abortion clinic was "dirty and bloody."
But Mongar's death was not the first for Gosnell. Semika Shirelle Shaw was killed in March, 2000; two days after Gosnell perforated her uterus during an abortion. She developed sepsis and died, leaving two children motherless. A lawsuit was settled for an undisclosed amount two years later.
Marie Smith is lucky to be alive after having had a botched abortion by Gosnell in 1999. She developed a high fever and slipped into unconsciousness a week after her abortion. She was rushed to the hospital where the source of her condition was confirmed.
"They showed me X-rays and said he [Gosnell] left an arm and a leg inside me," Smith told a reporter. "I almost died. I thought he knew what he was doing, but I guess I was wrong."
In fact, Gosnell has been named in over 40 lawsuits in the past twenty years.
One of those suits involved Dana Haynes, who had an abortion by Gosnell in November, 2006. Haynes alleges that Gosnell lacerated her uterus, cervix and her small bowel during the abortion.
Then there was the illegal abortion of 13-year old Malina Williams, who says she obtained an abortion by Gosnell without the required parental consent. Williams, now 32, told reporters that she could see bottles of jars filled with the remains of "little babies" and that after her abortion "she saw Gosnell cradling a bottle that contained the remains of her fetus."
But Gosnell's troubles actually reach back 38 years when he was involved in what became known as the "super coil fiasco." To make a statement about abortion, a California abortion activist named Harvey Karman assembled 15 low-income women in their second trimester of pregnancy, and put them on a bus from Chicago to Philadelphia on Mother's Day weekend, 1972, where Gosnell would conduct experimental "super coil" abortions on them. Gosnell, who was operating an illegal abortion mill at the time, inserted plastic coils invented by Karman into the uteri of the pregnant women. The experiment went awry, and nine of the fifteen women suffered serious complications, including hemorrhage, infections, retained fetal body parts, a perforated uterus, and one hysterectomy.
Instead of "revolutionizing" second trimester abortions, the botched experiment on unsuspecting women led to a Federal investigation that changed the protocols for testing future abortion devices. However, the investigation did not adequately remove Gosnell as a threat to women, and the reforms were shallow.
"How Gosnell has hung on to his license all these years with his history is a testament to how little abortion clinics are monitored by authorities," said Sullenger. "If abortion clinics were inspected half as often as the local McDonald's Restaurant, there would be no abortion clinics left open in the U.S. It really is that bad."
Even the National Abortion Federation's president, Vicki Saporta, has weighed in on Gosnell's house of horrors.
"There are places that operate in low-income areas and prey on low-income women, students, immigrant populations who may not even know that abortion is legal in this country. Women need to know that there's no reason, no matter their socioeconomic status, for them not to have access to the highest quality care," she said.
"If Ms. Saporta really believes that, she should close her NAF affiliated abortion clinics immediately," said Sullenger. "NAF clinics are among the worst offenders when it comes to filthy conditions and abortionists who do not keep the law, and are not better than Gosnell's mill. We know because we bought and closed an NAF abortion clinic in Wichita, and we had to gut the building down to the studs and cinder block to get rid of the filth."
It is groups like the NAF that fight abortion oversight and compliance with even the most basic safety standards that are responsible for today's shamefully dangerous abortion cartel that operates with a "can't touch me" above-the-law attitude to the detriment of women they pretend to serve.
"Saporta's crocodile tears cannot deflect the truth that deplorably filthy abortion clinics run by incompetent abortionists have created a health crisis in this country that is costing the lives and health of women and their pre-born babies," said Sullenger. "We pray that the exposure Gosnell has received will lead authorities to inspect and close every abortion clinic that presents a danger to the public – and that would mean all of them. "
Doing More:
Abortion Whistleblowers: If you have information that leads to the arrest and conviction of an abortionist that is breaking the law you could earn a $10,000 reward. Click here for more information.
Information in articles from the Associated Press, Washington Post, the Philadelphia Inquirer, and the Philadelphia Daily News were used in this report.