By Cheryl Sullenger
Dayton, OH — An ambulance was called to the Women's Med Dayton (WMD) abortion facility on January 13, 2021, for a woman who was suffering heavy bleeding after an abortion.
The WMD worker who called 911 seemed shaken and often stammered during the request for an "urgent" transport of a 25-year old woman to Miami Valley Hospital in Dayton, Ohio, for treatment that would not be provided by the abortion business.
"I'm in need of an urgent, but not emergent, transport to the hospital for heavy bleeding after a pregnancy termination," she stated, in an attempt to downplay the obviously upsetting emergency.
The caller's statement about the medical incident being a non-emergency likely prompted the ambulance to run without lights and sirens.  It usually takes longer for ambulances to respond when they are running silently.
Abortion facilities have been known to down-play serious injuries or ask for no lights or sirens so less attention is drawn to the fact a woman was injured during an abortion.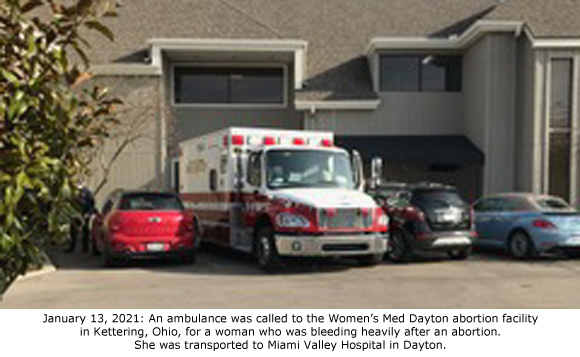 Women's Med Dayton is owned by nationally-known late-term abortionist Martin Haskell, who dubiously claims he invented the now-banned Partial Birth Abortion procedure that was once done on babies in the latest stages of pregnancy.
In 2019, after a four-year court battle with the Ohio Department of Health, the facility was due to be stripped of its abortion license for failing to comply with emergency safety requirements.  Haskell's facility had difficulty qualifying for a variance that allowed him to operate as long as he had approved agreements with back-up physicians to provide hospital care to abortion patients suffering abortion complications in lieu of a written transfer agreement with a local hospital.
In order to keep the ODH from revoking the abortion facility's abortion license in 2019, newly-appointed ODH Executive Director Amy Acton reached an agreement with Haskell to slightly change the name of his facility and reapply for a new license and variance, both of which she immediately granted.  This secretive move raised controversy and allegations that Acton conspired to circumvent a court order and ODH regulations in order to keep Haskell's abortion facility open.
Acton was later forced to resign after Operation Rescue published a series of exposés that showed her links to abortion groups, her participation in pro-abortion Democrat Barack Obama's first presidential campaign, and information provided by her estranged mother about her troubled childhood that did not jive with accounts Acton related to the public.
During the January 13 incident, abortionist Jeanne Corwin was on duty at Women's Med Dayton, according to local activists.  Keith Reisinger-Kindle of Wright of State Physicians Group, who is listed on Haskell's current variance, was tapped to provide hospital care for the bleeding woman at Miami Valley Hospital where he holds hospital privileges.
"There are very real health and safety issues at Women's Med Dayton, and this latest 911 call is just more evidence that the facility should have been closed.  Instead, an underhanded change in paperwork has allowed it to continue endangering the lives of women and taking the lives of innocent children," said Operation Rescue President Troy Newman.  "We again call on the Ohio Department of Health to investigate the injury at the Women's Med Dayton abortion facility on January 13, and place an emergency halt on all abortions there until it can be closed for good."
Please contact the Director of the Department of Health Stephanie McCloud and ask her to investigate safety issues at the Women's Med Dayton abortion facility using the ODH Web E-mail Form or call (614) 466-3543.