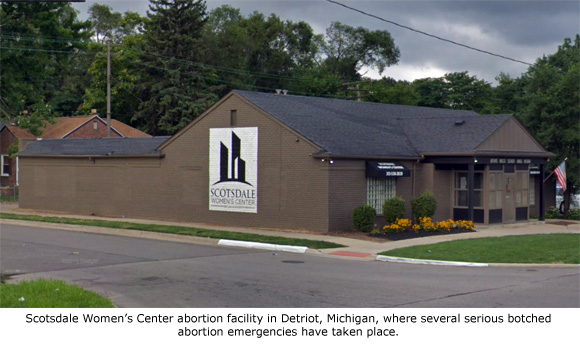 By Cheryl Sullenger
Detroit, MI – Two women were rushed to hospital emergency rooms recently after receiving serious injuries related to botched abortions done at the Scotsdale Women's Center in Detroit, Michigan, according to 911 records.
March 16, 2019
On March 16, 2019, an ambulance was called to the Scotsdale Women's Center for a 20-year old woman who was undergoing a 24-week second trimester abortion when a hole was torn in her uterus.
Scotsdale Women's Center notes on its website that it conducts abortions up to 24 weeks and that Dilation and Evacuation (D&E) procedures are used for abortions at 15-24 weeks.
Ironically, the woman was picked up at the back-alley entrance of the Scotsdale Women's Center and transported by ambulance to Sinai Grace Hospital for treatment of her uterine perforation that the abortion facility was incapable of providing.
Abortionist Seabrooks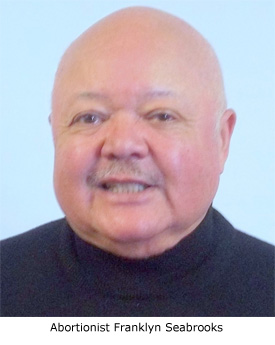 Operation Rescue confirmed in recently confirmed that one abortionist who regularly works at the Scotsdale Women's Center is Franklyn Seabrooks, who could well have been on duty during the March 16, 2019, incident.  He has been previously disciplined for a misdiagnosis of an obese patient's pregnancy as gestational age as 9-10 weeks, when in fact the woman was near term.  Seabrooks conducted three suction abortion procedures on the patient in one day and sent her to an abortionist in Livonia for a second opinion when her uterus continued to show a large mass.
Six days later, the woman gave birth to a baby boy who was 35 weeks and weighed 5 pounds 1 ounce. The baby suffered from sepsis, abrasions, and other medical issues due to the three failed abortion attempts, but was soon stabilized and sent home with the mother.
Seabrooks' license was suspended for three months, placed on six months' probation, and ordered not to conduct second trimester abortions as a condition of his probation.
April 25, 2019
A second medical emergency took place on April 25, 2019.  A 26-year old woman suffered hemorrhaging during an abortion at 12 weeks 3 days gestation.
The caller seemed to try to minimize the hemorrhage by telling the dispatcher there was "some bleeding, not serious."
"Some bleeding is normal during abortions, so if it was not serious, why transport the woman to the hospital?" asked Troy Newman President of Operation Rescue.  "Either the woman's hemorrhage was being downplayed in the event we got the records, or something else happened during the abortion that required emergency hospitalization, which was kept from the 911 dispatcher."
The woman was also transported to Sinai Grace Hospital for emergency care.
Other documented emergencies
Scotsdale Women's Center has had at least two other medical emergencies, both involving women who were not alert of non-responsive.  Those incidents took place on October 20, 2018, and October 22, 2015.
"Abortion is not a safe procedure.  Cases like those at the Scotsdale Women's Center only add validity to that statement," said Newman.  "Women are told that abortion is the safest thing they can do, but in reality, we have evidence that this is not the case at all, and we have hundreds of documented cases that prove just how dangerous abortion can be. The Abortion Cartel has lied for decades about abortion safety and do all they can to cover up the frequency of botched abortions.  That's just not rhetoric, that's a proven fact."