By Cheryl Sullenger
Wichita, KS – A 911 call during a medical emergency at the Trust Women Wichita abortion facility last week revealed how much this facility was willing to put its own interests above a woman who was believed to be having a stroke.
An employee of Trust Women, located in Wichita, Kansas, called 911 at 11:00 a.m. on July 31, 2019.
Public 911 records obtained by Operation Rescue were heavily redacted but did reveal that a 45-year old woman was having sudden speech and loss of balance.
Before the dispatcher could ask details of the woman's condition, the Trust Women caller had a special request.
"If you could not use sirens, I'd appreciate it," the Trust Women employee said.
At first, the dispatcher seemed to ignore her request.  He walked the caller through having the woman perform three brief tests to determine if there was any noticeable impairment.  Once she passed the tests, the dispatcher acknowledged the Trust Women request for the ambulance to run without sirens.
"I put in your request for early shutdown on the sirens," the dispatcher noted.
An ambulance responded to the call.
Operation Rescue, which is a national pro-life organization headquartered in Wichita, was tipped to the arrival of an ambulance and responded to document the incident.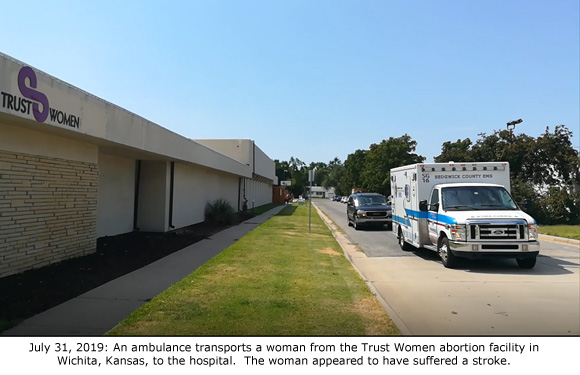 The ambulance remained at the abortion facility for 30 minutes before transporting the woman to Wesley Medical Center in Wichita.
Ambulances are able to respond more quickly using lights and sirens.  The request for no sirens even before the tests determined the woman was not significantly impaired by her apparent stroke, showed a callous disregard for the woman, and placed the interests of the abortion facility above her health and well-being.
In January 2005, when the facility was operated by late-term abortionist George Tiller, a clinic worker called 911 and demanded "no lights and no sirens" for a 19-year old patient, Christin Gilbert, who was suffering a medical emergency after a third-trimester pregnancy. The 911 dispatcher was placed on hold for 45 seconds, while the teens' life ebbed away. She later died from her abortion-related complications soon after reaching the hospital.
The Founder and CEO of Trust Women Wichita, Julie Burkhart, was acting as media spokesperson for Tiller's abortion business at the time of Gilbert's death.
"You would think after what happened to Christin Gilbert, Burkhart would know better than to ask for an ambulance to run without sirens," said Troy Newman, President of Operation Rescue.  "It's pretty cold-hearted to continue putting her abortion business above the life and health of women, even after Christin's death."
Trust Women has called for emergency medical assistance before for women suffering abortion complications.  The most recent known incident occurred on October 26, 2018, when an ambulance was called for a 41-year old patient suffered lacerations and hemorrhaging during an abortion.
In 2015, Operation Rescue uncovered a disturbing incident at Trust Women, then known as South Wind Women's Center, through a public records request after witnessing several police vehicles at the abortion business.
A mother had called 911 seeking help to rescue her pregnant teenage daughter who had been pulled out of her high school by her estranged father and taken to the abortion business against her will.  The teen had texted her mother for help to keep from being forced to get an abortion she did not want.
Julie Burkhart was contacted by police at the facility.  Public records showed her to be uncooperative with police.
"Upon arrival I contacted the director who advised she was aware of the situation but that there was not a situation. She refused to acknowledge whether the [the teen] was currently there or a patient. She also refused to speak to us while being recorded," wrote Officer Atlee Vogt in his report.
Trust Women has experienced difficulties maintaining an abortion provider.  To solve the problem, Trust Women began conducting medication abortions through the webcam process in 2013, but was recently forced to stop them due to a court ruling on a Kansas law that prohibits dispensing abortion drugs without a licensed physician present.