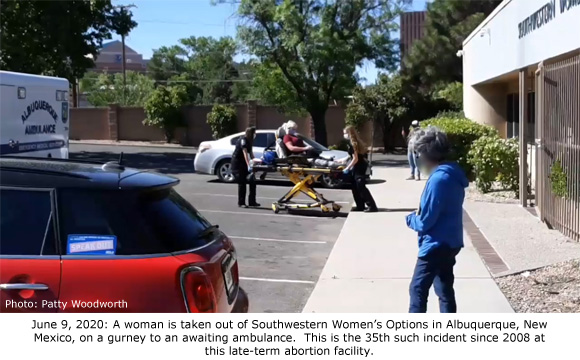 Albuquerque, NM – An ambulance was called to the Southwestern Women's Options abortion facility in Albuquerque, New Mexico, yesterday for a woman suffering from a medical emergency.
The incident was first reported by pro-life activist Patty Woodworth on her Facebook page where she posted several photographs of the incident.  The woman was wearing a face mask and was seated in an upright position on the gurney — a position often used when women are hemorrhaging, although it could not be confirmed that this was the case with this patient.
Woodworth reported that the ambulance turned off lights and sirens before it arrived at the abortion facility and left with a patient onboard without employing lights and sirens.
Southwestern Women's Options is one of the few abortion facilities nationwide that openly conduct abortions throughout all nine months of pregnancy.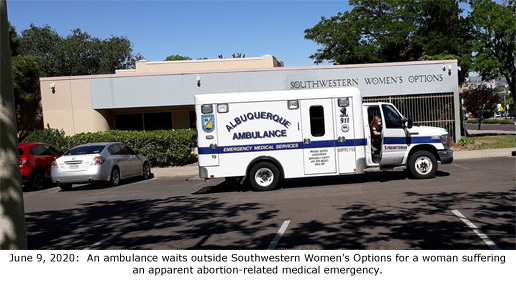 Abortion Free New Mexico pressured Democrat Governor Michelle Lujan Grisham to shut down SWO and other abortion facilities due to the COVID-19 order banning elective abortion procedures.  Two days before the medical emergency occurred, Gov. Lujan Grisham issued at statement that abortion facilities would remain open.
We have discussed this matter and the clinics are not going to close. Some people are claiming that abortions are elective surgeries and we are not considering them as elective surgeries. All the clinics are sanitizing very well and they are not going to close.
How Gov. Lujan Grisham knows abortion businesses are "sanitizing very well" remains a mystery since SWO failed its 2019 inspection for failing to approve and review lab policies involving staff quality assurance reviews, laboratory quality control measures, and quality protocols.
SWO has a long history of botched abortions and other abuses.  Some of the more noteworthy incidents include:
May 2011: A 911 call revealed that a 35-week pregnant woman with a history of a previous Cesarean section delivery suffered a ruptured uterus during an abortion conducted by Shelley Sella.  A complaint was filed by Operation Rescue and by New Mexico pro-life activist Tara Shaver, which resulted in a disciplinary hearing that revealed horrific details on a baby that weighed as much as 7.5 pounds.  Despite the obvious mishandling of this abortion, the New Mexico Medical Board declined to discipline Sella, for what Operation Rescue believes were political reasons.
June 2016: The House Select Investigative Panel on Infant Lives issued criminal referrals to the Department of Justice and New Mexico Attorney General's office with evidence that Southwestern Women's Options illegally supplied aborted baby body parts to the University of New Mexico in exchange for "valuable consideration."  What were some of the baby parts used for? Some brains harvested from aborted babies at SWO were dissected by high school students at a summer workshop.  SWO and their baby-trafficking partners at UNM soon came under investigation by the DOJ, but there has been no word as to the outcome of that investigation.
February 2017: Abortion Free New Mexico was tipped to the death of Keisha Atkins, who died from complications to a late-term abortion done at SWO at approximately six months of pregnancy.  An Operation Rescue analysis of her autopsy report revealed an effort to cover up the fact that abortion complications were in fact responsible for Atkins' agonizing death from a raging infection developed over the four-day procedure that resulted in a condition that caused internal hemorrhaging and systemic organ failure.
"Southwestern Women's Options has been a nightmare of botched abortions, a maternal death, and alleged criminal conduct related to the illegal trafficking of aborted baby tissues and organs," said Operation Rescue President Troy Newman.  "Only in a deep blue state like New Mexico would a horror show like this be allowed to continue.  We pray for a break in the Federal criminal investigation into Southwestern Women's Options that would close this abortion facility for good."