By Cheryl Sullenger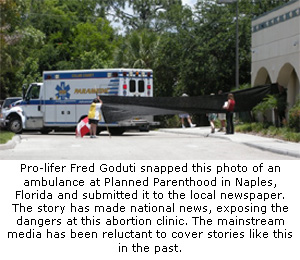 Naples, FL – Monday, an article appeared in the Naples News with three photos of an ambulance at the Planned Parenthood abortion clinic preparing to transport a patient to the hospital. As usual, that story was promptly picked up by LifeNews.com, but surprisingly, was then reported by Fox News on their web site.
The news coverage shows a shift in how abortion stories are being reported.
"Not that long ago, no news outlet would have touched this story," said Operation Rescue President Troy Newman.
The photos, submitted to the Naples newspaper by pro-lifer Fred Goduti, show an ambulance backing up to a Planned Parenthood office, with clinic personnel attempting to cover up the incident with a black tarp on two sticks.
"Planned Parenthood's sheets of shame could not keep the truth from getting out that their organization endangers the lives of women when it takes the lives of pre-born babies," said Newman. "For many years we have tried to get the media to cover documented cases of ambulances transporting injured women from abortion clinics. Now it is finally happening. This exposure could eventually help close this clinic, and others like it, out of concern for public safety."
"We urge the pro-lifers who witnessed this incident to file a complaint with their state's medical board. It is possible that an investigation could result in disciplinary action and even closure of the clinic," said Newman. "We have seen that happen before in Florida and all over the United States."
The Planned Parenthood clinic in Naples, Florida, has only been open since September 14, 2009.
"We were praying this would not happen," Goduti said. "It is inevitable it would happen."
Marie Claire magazine is scheduled to publish a story about this abortion clinic in July or August.
"It will be interesting to see if Marie Clair follows the lead of the Naples News and Fox News and reports the truth about this incident. Women have a right to know that when they walk into a Planned Parenthood abortion clinic, they may leave on an ambulance gurney."
Other Planned Parenthood organizations have been recently involved in allegations of wrongdoing, including the Iowa group that is under investigation for dispensing dangerous abortion pills over the Internet without a licensed physician present, and a Kansas group that faces 107 criminal charges related to illegal late-term abortions.