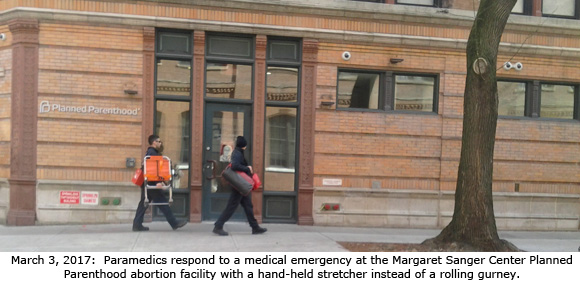 By Cheryl Sullenger
New York City, NY – For the third time in the opening weeks of 2017, a patient has been transported via ambulance to a nearby emergency room from Planned Parenthood's flagship New York abortion facility, the Margaret Sanger Center.
Photos provided to Operation Rescue by a pro-life activist who witnessed the incident on Friday, March 3, 2017, show paramedics entering the Planned Parenthood building with a hand-held portable stretcher, instead of a standard rolling gurney. They emerged five minutes later with a woman slumped in a wheelchair apparently provided by Planned Parenthood.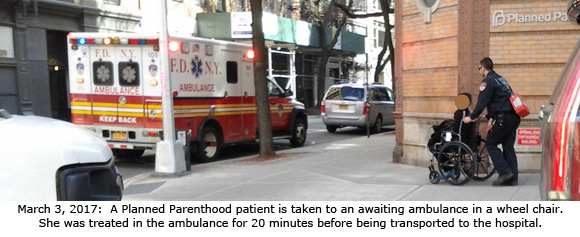 The pro-life witness, who wishes to remain unidentified, gave the following written account of what she saw:
An ambulance arrived at Margaret Sanger Planned Parenthood (26 Bleecker Street, NYC) today, March 3, at 11:54 a.m. The medics went in with a chair, but they came back with a woman in a Planned Parenthood wheelchair at 11:59 a.m. She was bent over nearly double as she got into the ambulance. The ambulance drove off nearly 20 minutes later at 12:18 p.m.
This account raises several questions concerning patient safety at the Planned Parenthood abortion facility.
Gurney Access?
First is the question of gurney access. This is the second documented incident where a patient of Planned Parenthood was brought to the ambulance in a wheelchair. A lack of gurney access delays emergency care for patients.
For example, in 2009 at Kermit Gosnell's Women's Medical Society abortion facility in West Philadelphia, Pennsylvania, paramedics had difficulty extracting Karnamaya Monger from the building due to the narrow halls and doorways. This delayed Mongar's arrival at the hospital and is believed to have contributed to her death.
While other patients have been seen on gurneys at the Planned Parenthood high-rise, it is possible that they were placed on one once the patient had been moved to the street-level lobby.
Time Lapse Prior to Transport
The length of time it took paramedics to stabilize the Margaret Sanger Planned Parenthood patient is also alarming. Once the woman was finally in the ambulance, paramedics took 20 minutes to treat her before rushing her to the hospital for additional care. This makes it likely that her injuries were severe and not treatable inside the Planned Parenthood center.
This is similar to an 2013 Ohio incident in which Lakisha Wilson suffered cardiopulminary arrest after a second trimester abortion. Even though he had not been breathing for some time, paramedics could not lay her flat to intubate her due to a cramped elevator. Once Wilson was finally inside the ambulance, paramedics intubated her prior to transporting her to the hospital where she later died.
Increased Frequency of Emergencies
Another concern is the increased frequency with which medical emergencies are occurring at the Margaret Sanger Center Planned Parenthood. In 2016, there were two documented ambulance transports that took place on March 1, and November 4.
However, in 2017, there have been three such incidents in just eight weeks. In addition to the March 3 event, there were emergency ambulance transports from this same Planned Parenthood facility on January 18 and February 4.
The increased frequency of patient hospitalizations is troubling since it represents a deterioration in patient safety.
"We have to wonder what is happening at the Margaret Sanger Planned Parenthood abortion center that is increasingly endangering the lives of women. But since this is happening in the pro-abortion state of New York, our efforts to find out more have been thwarted at every turn," said Troy Newman, President of Operation Rescue. "If an abortion facility can't keep their patients out of the emergency room, they shouldn't be operating."
To date nationwide, there have been a total of 21 documented Planned Parenthood patients that have required emergency transport directly from Planned Parenthood abortion centers around the country since January 2016.
"We only can document what pro-life activists report to us, and that is just a fraction of the abortion injuries that are occurring," said Newman. "But from what we can see, Planned Parenthood is endangering women in increasing numbers. This shows an urgent need to defund, investigate, and prosecute Planned Parenthood."