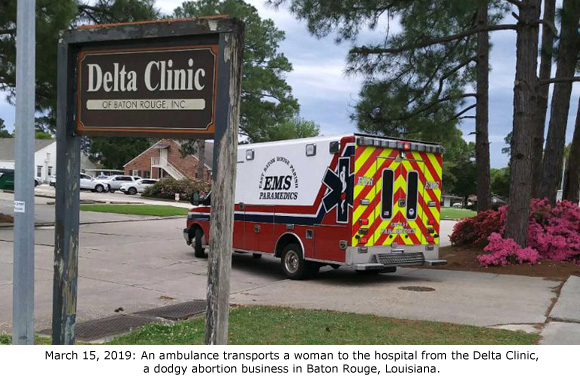 Baton Rouge, LA – An ambulance was recently called to the Delta Clinic of Baton Rouge, a facility located in Baton Rouge, Louisiana, that has a troubling past and connections to Pennsylvania abortionist Kermit Gosnell, who was convicted of three counts of murder in 2013 for killing babies born alive in his squalid Pennsylvania "House of Horrors" abortion mill.
The ambulance arrived at the Delta Clinic at approximately 1:45 p.m. on March 15, 2019.  A woman was brought out of the abortion facility on a stretcher and loaded into the ambulance.  She was then transported to a local hospital.
Local pro-life activist Rich Mahoney told Operation Rescue that he spoke with the injured woman as she was entering the abortion facility, but she ignored his offers of help.
Mahoney also indicated that the abortionist on duty at the time of the incident was 72-year old James C. DeGuerce III.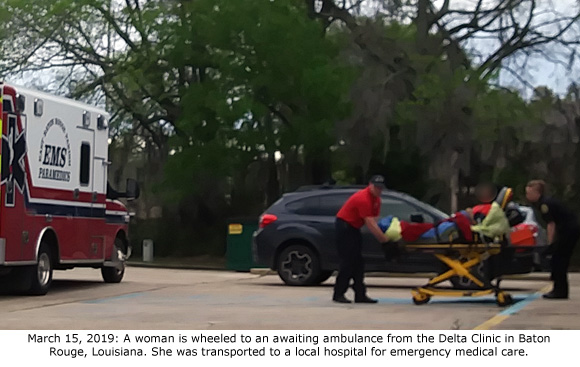 An effort by Louisiana Right to Life to obtain the public 911 records of this incident have been denied citing HIPAA concerns.  However, HIPAA should not prevent the release of public records if patient identifying information is redacted.
"Cities are misusing HIPAA as an excuse to cover up for these dangerous abortion clinics," said Troy Newman, President of Operation Rescue.  "This collusion with the abortionists is placing women's lives at risk by denying them public information that could better inform their decisions."
The Delta Clinic of Baton Rouge is a particularly perilous place.
In 2017, it failed a health inspection that resulted in 15 pages of citations that included numerous records and documentation violations, failure to maintain a "quality assurance" program, and failure to comply with abortion reporting laws in at least 15 cases.
The abortion business is owned by Leroy T. Brinkley, who has operated dodgy abortion facilities in Louisiana and elsewhere for decades.  He was friends with Kermit Gosnell and hired him to work at his two Atlantic Women's Services abortion facilities in Delaware.  There Gosnell would begin late-term abortions then send women to his Women's Medical Society abortion facility in West Philadelphia to complete them.  Those two Delaware abortion facilities were closed following Gosnell's arrest in 2011.
Brinkley once employed Eileen O'Neill, a medical school graduate that had not yet obtained a permanent license, at the Delta Clinic of Baton Rouge.  There, O'Neill was responsible for a horrifically botched abortion that resulted in an infection that required the injured woman to undergo a hysterectomy.
Brinkley referred O'Neal to Gosnell, who hired her to work at his own clinic in Pennsylvania where she fraudulently posed as a licensed physician.  She was arrested with Gosnell in 2011 and was tried along side him in 2013.  She appealed for a new trial and won, but eventually entered a plea agreement that kept her out of prison.
"The latest medical emergency at the Delta Clinic shows once again that it is too dangerous to operate," said Newman.  "The State of Louisiana needs to take the danger posed by this clinic seriously and act immediately to investigate and a shut this abortion business down for good!"