By Cheryl Sullenger
Eastpointe, MI – An ambulance was called to the Eastland Women's Center in Eastpoint, Michigan, for an unconscious woman who had apparently been given an overdose of opioid pain killers during an abortion on May 22, 2020.
The 911 records obtained by Operation Rescue show that when the abortion facility staff administered pain medication to a 25-year old African American female during an abortion, she fell unconscious.  The clinic's medical staff were unable to revive her even though they administered an intramuscular shot of Narcan, a drug used to counter the effects of opioid drugs.

When the Medstar ambulance and an emergency medical unit with the Eastpoint Fire Department arrived, the woman was unconscious with normal breathing, a high blood pressure reading of 158/98, and a low pulse rate of 46 beats per minute.  An average 25-year old female's pulse rate should be about 74 bpm.
The woman was transported by Medstar ambulance without lights or sirens to the nearest hospital.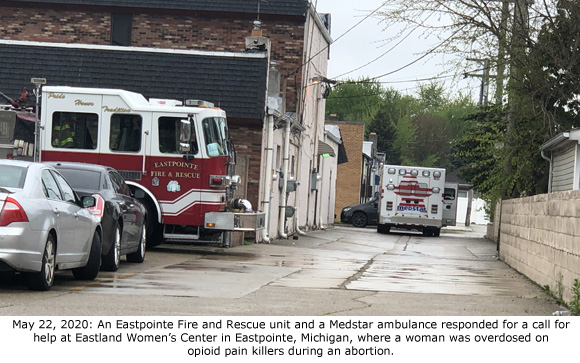 Last year, another medical emergency at Eastland Women's Center involved another 25-year old woman who suffered heavy blood loss due to a perforation in her uterus during an abortion.
The Eastland Women's Clinic has been fraught with scandal in recent years.  Owner Angel Ojeda was placed on probation in 2017 for one year after the Michigan Department of Licensing and Regulatory Affairs found that he failed to secure and account for dangerous drugs.  He also failed to report the theft of drugs – including 82 vials of the controlled substance Fentanyl — by his former employee, Michael Roth, who used the drugs to conduct dangerous home abortions in 2015.  Roth's medical license was suspended indefinitely in 2017, after authorities found the remains of aborted babies in his trunk after a traffic accident.  He later pleaded no contest to three criminal charges.
"Medical emergencies will continue at this troubled abortion facility until Michigan authorities find the will to shut them down," said Operation Rescue President Troy Newman.  "How many scandals, criminal violations, and botched abortions are needed before Michigan decides this abortion facility is just too dangerous to operate?"
The overdose incident took place during COVID-19 restrictions that closed churches and legitimate businesses, but left abortion facilities, including the Eastland Women's Clinic, open for business.
"Gov. Gretchen Whitmer's unwillingness to shut down abortion facilities during the pandemic contributed to this woman's injury," said Newman.  "This makes her famously-abusive coronavirus power grab done in the name of 'keeping people safe' hypocritical at best or – at worst – just plain evil."