By Cheryl Sullenger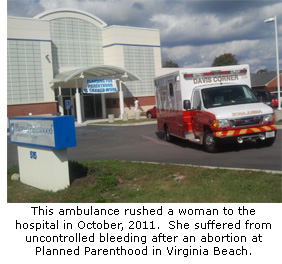 Virginia Beach, Virginia – A life-threatening abortion injury at a Planned Parenthood abortion clinic in Virginia Beach, Virginia, has come to light two months after it occurred thanks to pro-life activists who worked to document the incident.
Operation Rescue has published a recording of the 911 call placed by an obviously shaken non-medical Planned Parenthood employee on October 14, 2011. (See embedded video below.) The recording was obtained by pro-life activist Louantha Kerr through an open records request.
The 911 recording was heavily redacted by Virginia Beach city officials. Nevertheless, it shows a medical emergency involving heavy bleeding on a 28-year old abortion patient that could not be controlled by two Planned Parenthood physicians.
Photographs taken by Kerr at the time of the incident depict an ambulance at the scene and a row of Planned Parenthood workers trying to block pro-lifers from documenting the event. At least one Planned Parenthood worker blocked cameras with an umbrella.
Ironically, a sign hanging above the door of the Planned Parenthood abortion clinic read, "Planning for Parenthood is Sacred Work."
"Instead of 'planning for parenthood', that abortion clinic is more likely planning to profit from dead babies and broken women who have to live for the rest of their lives with the fact that they killed their own babies," said Operation Rescue spokesperson Cheryl Sullenger. "With 96 per cent of all pregnant women entering Planned Parenthood being sold abortions, it's not hard to see how abortion is a cash cow for them. Based on years of experience investigating abortion clinics, we have found it is standard practice for them to place profit above the health and safety of women."
The clinic involved in the botched abortion injury has recently applied to the state to upgrade to outpatient hospital status and add two operating rooms, apparently to avoid running afoul of Virginia's new clinic regulations that went into effect on January 1, 2012. Abortion clinics have until March 30, 2012, to apply for a new facility license and undergo inspections.
"We call on Virginia regulators to deny Planned Parenthood's request to expand their business," said Sullenger. "If the abortions they are doing now are not safe, they certainly should not be allowed to inflict their dangerous abortion practices on even more women. There should be a thorough investigation of the October abortion injury and strong consideration should be given to shutting down this clinic altogether."