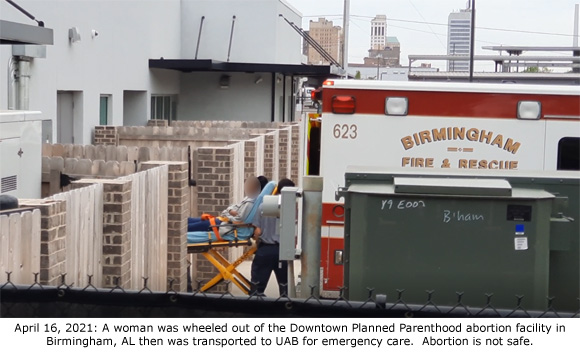 By Cheryl Sullenger
Birmingham, AL – A Planned Parenthood abortion facility in Birmingham, Alabama, which has been open less than nine months, called 911 for a woman suffering a medical emergency on Friday, April 16, 2021.
A recording of the emergency radio dispatch indicated that the 911 call came in at about 9:34 a.m.  Video taken at the scene showed a Black woman on a gurney with her arms folded across her abdomen.  She was wheeled out the back door of the facility and loaded into a Birmingham Fire and Rescue ambulance.
The CEC for Life, which is an international pro-life organization based in Birmingham, Alabama, notified Operation Rescue of the incident and the two groups are working together to obtain more information about this obviously abortion-related emergency.
Planned Parenthood opened the 11,000 square-foot downtown facility in July 2020, but only began to conduct abortions in the fall of that year.
On January 14, 2021, an inspection was conducted by the Alabama Department of Public Health where the new facility* was cited for the failure of its medical director to properly certify abortionists working at the facility as competent to conduct abortions.
Planned Parenthood's previous Birmingham location was fraught with licensing issues.
While still at the old location, Planned Parenthood halted all abortions in 2017, after which it focused on fundraising to build the new facility where Friday's medical emergency took place.
"Planned Parenthood may have a new facility, but it's like putting lipstick on a pig," said Operation Rescue President Troy Newman.  "Lipstick doesn't change the fact that the pig is still a pig, just as a new facility doesn't change the fact that the Birmingham Planned Parenthood people continue to kill babies and injure women as they have done for years."
This is a breaking story. Operation Rescue will post updates as they become available.
____________
*The Inspection Report dated January 14, 2021, erroneously shows the address of Planned Parenthood's former Birmingham location, which was permanently closed in July 2020.  The only Planned Parenthood facility operating in Birmingham on January 14, 2021, was the Downtown Planned Parenthood where Friday's medical emergency took place.