By Cheryl Sullenger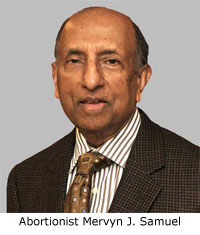 Columbus, OH – Medical transcripts leaked to Operation Rescue by a confidential informant through a third party reveal a pattern of botched abortions and other violations at Complete Health Care for Women (CHCW) in Columbus, Ohio, that paint a grisly portrait of an unsafe abortion business that routinely injures women and violates the law. CHCW is operated by abortionist Mervyn J. Samuel.
The medical transcripts were smuggled out of a Columbus hospital and redacted by the informant before they were given to Operation Rescue.
Records show that on March 16, 2012, a 23-year old woman reported to a hospital emergency room with heavy bleeding and fever after an abortion by "Dr. Samuel" with a possible incomplete abortion. The patient has suffered significant bleeding and drove herself to the ER while suffering lightheadedness and dizziness.
But that is not the first incident of this kind at CHCW. In July, 2010, a pro-life sidewalk counselor observed a young woman leaving the abortion clinic after an abortion. The young woman swooned, dropped to her knees, and began to vomit. She was bleeding heavily through her clothing.
The sidewalk counselor ran to assist the 19-year old abortion patient and drove her to the local hospital where she was treated.
Medical transcripts indicated that the patient was 13 weeks pregnant at the time of her abortion. She had been "nauseated and lightheaded" while at the abortion clinic, but was discharged while still suffering these symptoms after having been at the clinic for a total of only two hours.
At the emergency room, she was treated for heavy bleeding, and given medication for her dizziness and nausea. She was discharged after having spent six hours at the hospital.
Operation Rescue also has documentation of a dozen OSHA violations at Complete Health Care for Women – four of which were classified as "serious" – that netted the abortion business fines totaling $5,061. The most serious infractions had to deal with "blood-borne pathogens", meaning the clinic failed to protect workers and patients from contamination caused by exposure to blood.
"Here is an abortion clinic that is endangering the lives and health of women every day. Women do not know when they walk into that office if they are going to wind up in the hospital or worse," said Cheryl Sullenger, Senior Policy Advisor for Operation Rescue and Pro-Life Nation.
"Rest assured that the appropriate complaints are being filed against Mervyn Samuel so that he can be legally prevented from inflicting his brand of abortion quackery on others."
In a third incident, this time at Capitol Care, another 19-year old abortion patient was recently admitted to a Columbus hospital after suffering excessive bleeding and pelvic pain after her abortion in her tenth week of pregnancy. According to transcripts, she suffered from a hematoma, (internal bleeding inside the tissues), and excessive clotting.