By Cheryl Sullenger
Beverly Hills, CA – Thanks to a successful appeal of excessively redacted 911 records related to two medical emergencies at the Pro-Choice Medical Center in Beverly Hills, California, Operation Rescue has now obtained recordings and documents that reveal much more than previously known about what happened to two women who experienced serious late-term abortion complications.
The Pro-Choice Medical Center is owned and operated by abortionist Josepha Seletz, known as the "Abortionist to the Stars," who conducts abortions throughout all nine months of pregnancy.
Operation Rescue first reported on these medical emergencies on November 15, 2018, after receiving 911 recordings and documents that were redacted beyond what is allowable by law. The new recordings and documents still contain redactions, but reveal information that is important for the public to know, especially concerning the dangerous complications to late-term abortions that are being handled at taxpayer expense by public emergency services.
July 3, 2018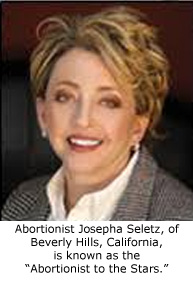 The first incident took place on July 3, 2018, when an ambulance was called for a woman suffering an extremely serious 21-week abortion complication – one that has caused several maternal deaths after bungled late-term abortions.
Instead of several minutes of beeps to indicate nearly complete redactions, the new version of the 911 call recorded a conversation between a Pro-Choice Medical Center employee and a 911 dispatcher.
"We have a patient that had a second trimester pregnancy termination. After the procedure, she's having some bleeding, and Dr. Seletz at this point thinks it's DIC. That's when the blood doesn't clot, so she's [just going] for observation," the abortion worker told 911. "There is a nurse anesthetist here and she is stable."
While the caller and the dispatcher engaged in a pleasant exchange with no sense of urgency over a seemingly routine patient transfer, the woman suffering complications was certainly not out of danger.
DIC, or Disseminated Intravascular Coagulation, is a life-threatening condition that is a known complication to late-term abortions and other conditions. As it relates to abortions, DIC usually begins with surgical trauma to internal organs, inflammation, or infection. This causes the blood to form clots that can disrupt the flow of blood to vital organs, which are then affected by the loss of oxygen supply. When the blood's clotting agents have been used up, hemorrhaging ensues that can rapidly lead to organ failure and ultimately death.
DIC is treatable if caught early enough, but in cases involving abortion where there is a reluctance to call for emergency medical assistance, the passage of time adversely affects survivability.
A note on the EMS report indicated that there had been post-surgical bleeding, but added, "No bleeding at this time because clamps are in on [sic] her uterus."
The patient was transported to Cedars Sinai Medical Center for further treatment that likely included blood transfusions.
"I'm not a doctor, but we have seen this condition enough to know that once the patient began to hemorrhage, the clock was ticking down on this woman's life," said Troy Newman, President of Operation Rescue. "For the caller to downplay her condition as a routine transfer for observation left emergency responders in the dark about the seriousness of her condition, which further endangered the woman's life."
July 10, 2018
The second incident on July 10, 2018, also disturbingly involved diagnosed DIC.
The printed records indicated that the elective second trimester abortion was completed at 12:00 p.m. Paramedics were not dispatched until 6:36 p.m. even though the patient was "oozing" blood for nearly seven hours. Paramedics found the woman alert and oriented, but her blood pressure and pulse were high and rising. They gave the woman two liters of fluids and transported her to Cedars Sinai Medical Center.
According to the unredacted portion of the 911 recording, Beverly Hills Police apparently received a hang-up call from the abortion facility. A 911 dispatcher phoned back and a clinic worker answered the phone "Sinai Surgical" the former name for the Pro-Choice Medical Center. She indicated that they did in fact need an ambulance.
"We have a patient that had a second trimester pregnancy termination. So, she has DIC. That means her blood is not coagulating, and we did a blood test that got confirmed at the hospital, so we [unintelligible] for observation," said the abortion worker.
"Okay, so she's dealing with abdominal stuff, then?" asked the dispatcher.
"She's bleeding. Yeah, bleeding," the worker responded.
"This case reminds me of what happened to Keisha Atkins in 2017. She died from what appears to have been DIC during a late-term abortion at Southwestern Women's Options in Albuquerque, New Mexico. She suffered internal hemorrhaging of several organs, including her lungs. Several blood transfusions at the hospital failed to save her life," said Troy Newman, president of Operation Rescue. "We don't know if this Seletz patient survived, but we do know she was alive when she was transferred to the hospital. If she did recover, she is very fortunate. Other women have not." [Read more about Keisha Atkins' death.]
The fact that two late-term abortion patients within a week suffered the very serious complication of Disseminated Intravascular Coagulation, is an indication that not all is right at the Pro-Choice Medical Center. The facility poses unacceptable increased risks to women already facing dangerous outpatient late-term abortions.
So far in 2018, four injured women were transported to Cedars Sinai Medical Center from this facility suffering serious abortion complications. Other incidents took place on April 23 and May 16.
"We have seen enough 911 calls originating from Seletz's clinic to be very concerned about what is happening there, both to the women and to the late-term babies she specializes in aborting," said Newman. "We plan to file a complaint against Seletz with the California Medical Board to seek a full investigation and disciplinary action in order to protect the public from further harm."
Read Beverly Hills Fire Dept. EMS Record, 7/3/2018
Read Beverly Hills Fire Dept. EMS Record, 7/10/2018