#InvestigateCarhart
By Cheryl Sullenger
Bethesda, MD – A photo and new information has surfaced, which reveals a previously unknown medical emergency at a Bethesda late-term abortion facility operated by the notorious LeRoy Carhart.
This is the first recorded incident involving the ambulance transport of a Carhart patient since he opened a new abortion facility in Bethesda in October 2017, just one month prior to this emergency. It is the eleventh Carhart patient transported by ambulance to a hospital since Carhart first began conducting abortions in Maryland in December 2010.
Carhart relocated to Bethesda after the late-term abortion facility where he used to work, Germantown Reproductive Health Services, was bought and closed by the Maryland Coalition for Life. His new facility, AbortionClinics.org, offers abortions throughout all nine months of pregnancy.
The photo, was taken by an anonymous source in the parking lot of the Wildwood Medical Building, where Carhart's abortion facility is located, on November 20, 2017, at around 4:30 p.m. – long after any pro-life activists would have left for the day.
The witness observed a woman she knew to be a nurse at Carhart's abortion business escorting the gurney out to the ambulance. The photo shows a dark-haired woman on the gurney in the seated position being treated with an IV solution as she was loaded into an ambulance belonging to – oddly enough – the National Institutes of Health (NIH).
The NIH Division of Fire and Rescue Services (DFRS) provides fire, emergency medical, hazardous materials and specialized rescue services primarily to the NIH research complex, which is comprised of "3,500 research laboratories; a research hospital; animal facilities; computer facilities; high hazard bio-containment laboratories; day care and infant care facilities; dormitory and apartment facilities; single family residential homes and an underground mass transit train station," according to the NIH's web site.
The website further notes that the NIH DFRS also "responds to fires and other emergencies at the National Naval Medical Center [Walter Reed] and in Montgomery County, Maryland, in accordance with current mutual aid agreements."
The patient was taken to Walter Reed National Military Medical Center in Bethesda for treatment, according to local activist Missy Smith, president and founder of WAKEUP.
"We have a private abortion patient of LeRoy Carhart's who was transported in a federally-funded NIH ambulance and taken to a federally-funded military hospital," said Troy Newman, President of Operation Rescue. "I have to wonder in federal tax dollars were improperly used."
The use of an ambulance from the National Institutes of Health for transport to Walter Reed may have been a routine response due to the mutual aid agreement.
Lessening the probability of pure coincidence are links between Carhart's late-term abortion business, the illegal sale of aborted baby remains, and the NIH.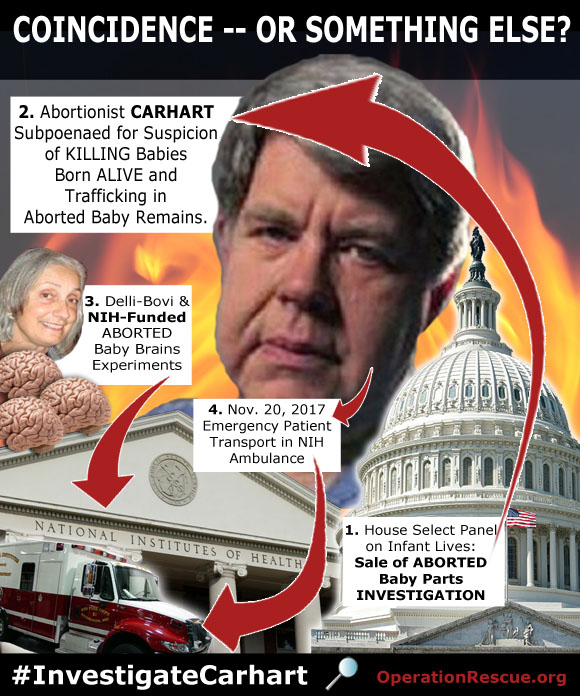 Carhart was formerly under investigation by the U.S. House Select Investigative Panel on Infant Lives, which was looking into the illegal trafficking in aborted baby remains for profit. Carhart was under suspicion of having sold aborted baby remains, and having babies born alive during late-term abortions. He was issued a Congressional subpoena for documents, but never fully complied before the Select Panel's term ended.
Last May, Operation Rescue published a video along with a report about a bizarre incident where a man with a small biohazard cooler picked up aborted baby remains from Carhart's Nebraska abortion facility then drove off with them in the back seat of his private subcompact car. This transfer was unlike the usual pick-ups of aborted babies for routine disposal, and was suspected of being a transfer of aborted baby parts to a nearby research facility.
So how does the NIH fit in? Operation Rescue has documented that the NIH has paid for experimentation on aborted baby remains. In one example, a 2015 article published by Operation Rescue revealed documentation that a Massachusetts abortionist, Laurent C. Delli-Bovi, had conducted NIH-funded "research" on the brains of 22 aborted babies – half with Down syndrome. The brains were taken from aborted babies aged 14-22 weeks and were used for experimentation within 2-4 hours after their deaths.
But even if the NIH involvement in the November medical emergency at Carhart's Bethesda abortion facility was truly coincidental, the dangers of his late-term abortion business cannot be overstated.
With the help of local activists, Operation Rescue was able to document numerous medical emergencies, patient injuries, and even one patient death while he worked in Germantown, and at his abortion business in Bellevue, Nebraska. In Maryland, Jennifer Morbelli died from complications to a 33-week abortion after Carhart had boarded a plane back to his home state of Nebraska and was unavailable to Morbelli or her family as her condition worsened after the abortion. Despite numerous complaints related to dangerous practices and negligent patient care against Carhart, the Maryland Board of Physicians has declined to discipline.
"It looks like Carhart is picking up where he left off in Germantown and continues to pose a threat to women in Bethesda," said Newman. "But there is some evidence that leads us to believe that he is also still involved in the sale of aborted baby remains. Because the House Select Panel could never really get enough proof to refer him for criminal prosecution, we are asking U.S. Attorney Jeff Sessions to have the Department of Justice investigate him. If he is breaking the law, he should be held accountable and his shady abortion businesses in Maryland and Nebraska should be shut down."